Ebola Health Worker Flew Hours Before Reporting Symptoms
Caroline Chen and Mary Schlangenstein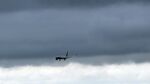 The second nurse diagnosed with Ebola in Texas flew from Cleveland to Dallas hours before she reported her symptoms, and U.S. officials are working to contact passengers on the plane.
She took Frontier Airlines Flight 1143 the night of Oct. 13, the U.S. Centers for Disease Control and Prevention said today. The caregiver caught the deadly virus while treating patient Thomas Eric Duncan at Texas Health Presbyterian Hospital in Dallas earlier this month.
CDC is reaching out to the 132 passengers because of the short time window between the nurse's flight and her disclosure of her illness the following morning, the agency said in a statement.
"She should not have traveled on a commercial airline" because of her exposure to Ebola, CDC Director Thomas Frieden told reporters on a conference call. She had no fever, nausea or vomiting on the trip, suggesting "that the risk to any around that individual would have been extremely low."
Frontier's plane has been cleaned three times since the Oct. 13 flight, the airline said. The jet will resume operations today with a Cleveland-to-Atlanta flight, followed by trips to Denver and Los Angeles, according to FlightAware.com.
"It is important to keep in mind that it has been 36 hours-plus since this customer was on board," said Todd Lehmacher, a spokesman for Denver-based Frontier. "We take what occurred very seriously."
Oct. 10
The health worker originally traveled to Cleveland from Dallas on Flight 1142 on Oct. 10, Frontier said. The CDC didn't say that it was contacting people on that flight for exposure to Ebola, which is only contagious while a person is symptomatic.
Frontier is owned by Indigo Partners LLC of Phoenix. Airline stocks fell for the seventh time in eight days. The 11-carrier Bloomberg U.S. Airlines Index slid 0.5 percent.
This is the second health-care worker infected with Ebola while caring for Duncan, a Liberian visitor to the U.S. who died at the hospital on Oct. 8.
Sana Syed, a spokeswoman for the city of Dallas, said she didn't know why the caregiver was allowed to fly. She said the city was unaware of the nurse's trip until it was disclosed in news accounts today.
"That's a CDC question," Syed said in a telephone interview. "We're trying to figure that out for ourselves."
Last Flight
Flight 1143 was the last of the day for the Frontier plane, an Airbus Group NV A320 jet, which returned to service the next day after receiving "a thorough cleaning per our normal procedures," the airline said in a statement.
The aircraft flew back to Cleveland from Dallas yesterday, then to Fort Lauderdale-Hollywood International in Florida, Atlanta and Cleveland before Frontier was notified of the woman's presence onboard, according to FlightAware.com.
Frontier alerted its unions about the nurse's flight before issuing a joint statement with the CDC, said Lehmacher, the spokesman. Flight 1143's crew, two pilots and four flight attendants, has been taken off duty with pay, he said.
"Though there is very little risk to our crew members per what the CDC is telling us, we made the decision out of an abundance of caution as we want to ensure both our employees and customers are kept safe," Lehmacher said. "Their well-being is our primary concern."
Union View
The Association of Flight Attendants "is working with management and CDC officials to ensure that the health of Frontier flight attendants was not compromised at any point," said Corey Caldwell, a spokeswoman for the union's national office. "AFA will continue to press that crew members are regularly monitored and provided with any additional resources that may be required."
Angie Reef, president of the AFA at Frontier, and Mike Haffling, vice president of the Frontier Airline Pilots Association, declined to comment immediately. The unions represent 1,000 attendants and about 650 pilots at Frontier.
Some Texas Health Presbyterian workers are included in the 48 people initially being monitored by local health officials after possibly having contact with Duncan before he was isolated, according to Dave Daigle, a Dallas-based CDC spokesman who is part of the Ebola contact-tracing efforts.
The nurse diagnosed with the latest case wasn't part of that original group. Daigle declined to elaborate on why she was allowed to travel or whether other health workers are undergoing testing for the virus.
U.S. state and local health workers are attempting to combat any spread of Ebola in the U.S. after the hospital was treated has been criticized for not having initially done enough to protect his caregivers.
(An earlier version of this story incorrectly referred to Indigo Partners LLC as a unit of Carlyle Group LP.)
Before it's here, it's on the Bloomberg Terminal.
LEARN MORE