Ben Carson's Longshot Presidential Bid Suddenly Looks a Lot More Realistic
Rand Paul? Ted Cruz? Jeb Bush? Chris Christie? More Iowa Republicans are backing Ben Carson than all of them.
by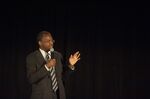 This story contains corrected material, published Oct. 15, 2014.
"I tend to be an honest and frank and open person," says Ben Carson, his voice not much more than a whisper. "And I'm coming to learn that you can't actually do that." He chuckled.
Carson is in the Capitol Hill office of his business manager, Armstrong Williams, who's also a conservative talk radio host, consultant and owner of a handful of television and radio stations. Carson is relaxed, leaning back, legs crossed, in an overstuffed chair. He's been barnstorming the country for over a year, issuing a string of statements that, for an ordinary politician, could be career-killing gaffes. He doesn't believe in evolution, and came close to equating gay marriage with bestiality. He's very, very far from Obama's coalition of the ascendant. But he is now near the top of conservative straw polls across the country. In Iowa, he sits behind only Mitt Romney as the first choice of Republican caucus-goers, according to a Bloomberg Politics/Des Moines Register Iowa Poll. He's on the verge of running for president, close to making the decision, so he has to learn about politics. The real challenge, he says, is not to learn too much.   
"We're in the problem that we have now because everyone is being just like everybody else," Carson says. "I think that's one of the reasons that a lot of people have been trying to convince me that I really should run for high political office even though it's about the last thing I ever wanted to do."
But he listens to the people, he says. And apparently, the Republican Party does, too. The same day as the interview, the Republican National Committee sent out a fundraising appeal under his name. The party's Senate candidates in crucial races around the country tout his endorsement.
"We need to wake people up because people have forgotten what America is," he says. "They've forgotten what the things are that made us great, the very principles and values that are American in nature."
Carson, 63, hardly has the appearance of a fire breather. With glasses, gray fanning out across his hairline, mustache and goatee, he comes across as reserved — even as he ticks through the myriad of reasons for the downward spiral he says he's seen over "the last six years."
"A house divided against itself cannot stand and we're a perfect example of that, and yet you see a war on everything. On women. Income wars. Race wars. Religious wars. You name it, there's a war on it and it's destroying us. And people hate each other and I am not 100% sure that it's not planned," he says.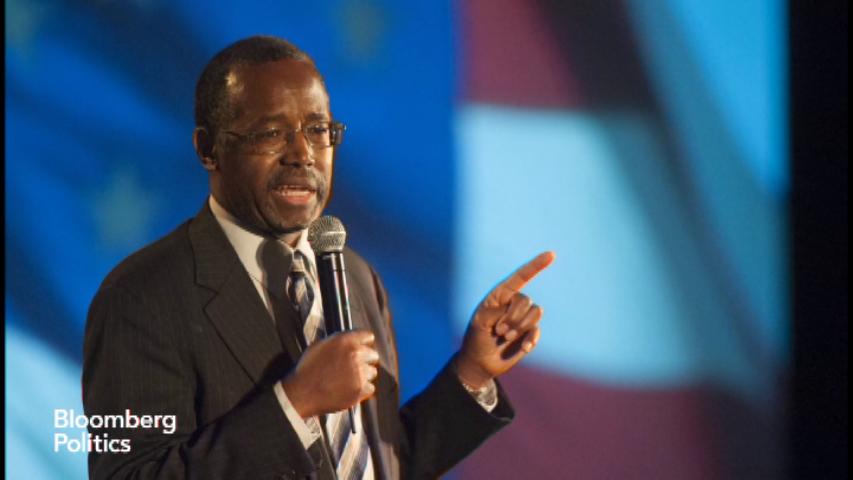 For Carson, the canary in the American coalmine is political correctness. It's a theme that's woven into his stump speech, one that he's now delivering four or five times a week, in states in every corner of the country — he has only 13 free days on his calendar between now and the end of the year.
I ask Carson why he believes this minor moral failing is so crucial. "The reason that is very troubling to me is that it's the very same thing that happened to the Roman Empire," he says, growing serious. "They were extremely powerful. There was no way anybody could overcome them. But these philosophers, with the long flowing white robes and the long white beards, they could wax eloquently on every subject, but nothing was right and nothing was wrong. They soon completely lost sight of who they were."
Over the course of a 90-minute interview, private reception, and public speech spent hammering away at the president's policies last week, Carson never actually says the words "Barack Obama." But a large part of Carson's appeal is that he is an Obama doppelganger, one who uses the moral authority of his self-willed rise from a hardscrabble African American childhood to critique the right's favorite target. You can call Ben Carson many things — but you can't call him racist, even as some of his harshest critics come from the ranks of prominent black leaders. 
"What people will begin to see as they hear what I'm actually saying and read about what I'm actually saying," he says, "is how do you get people out of the state of dependency?"
Carson, in one of the few moments over the course of several hours that his voice rises, says that he hears the criticism that he's a "tool of the Right," or that he's clever enough to have recognized the pressure points within the American psyche and serves to take advantage of them for his own gain. Are any of the criticisms valid? 
"I'm sure there must be some," he says. "But most of the stuff that I see, that I'm arrogant, that I don't care about poor people, that I only care about the rich — that stuff is so far from correct it's almost laughable." 
Even his own advisers admit that the gaffes are indeed gaffes. He's equated what he sees as the loss of personal freedom under President Barack Obama's healthcare law to slavery; he called citizens who refused to stand up against the Obama administration the equivalent of those who stood by and did nothing in Nazi Germany; while saying nobody can redefine marriage as anything but between a man and a woman, he figured out a way to make it sound an awful lot like he was comparing homosexuality to pedophilia and bestiality. The statements are the biggest impediment to Carson's further political rise, driving the liberal blogosphere mad (which may be a benefit, of course) and forcing many Republicans to shake their heads.
Carson himself refuses to back off the statements, which he says make sense in their full context. Still, he acknowledges that, for a potential presidential nominee, perhaps some restraint is in order. "That's something that you do learn with time," Carson says "In the political, public sphere sense, you have to be very measured. But at the same time I have to be careful not to become somebody else, which is what happens to so many people in the political sphere."
It is precisely because Carson seems like such a reasonable man that some of his intellectual excursions, expressed in the same quiet tone, come across as jarring. He recommends W. Cleon Skousen's "The Naked Communist," a 1958 book by the former FBI special agent and favorite of the right who lays out the strategy communists would use to take control of the U.S.
"It's really quite amazing," Carson says. "You would think it was written last year." But isn't it a stretch to think government officials, the representatives of the inefficient bureaucracy could be that cunning? "The majority of them aren't, I agree with you," Carson says, leaving the thought hanging — but not all of them. 
And he has a sunny confidence in his own beliefs that seems somehow drawn from his competence at his profession. "I am very happy to explain my positions to anybody because I think they are very logical," he says. "And anybody who doesn't think they are logical, I challenge them to explain to me why they are not logical and what their position is."
Carson was the first surgeon to successfully separate twins conjoined at the back of the head. He was awarded the Presidential Medal of Freedom by President George W. Bush, has more than 60 honorary doctorate degrees, and serves on the boards of Kellogg Co. and Costco Wholesale Corp. His foundation, Carson Scholars Fund, is operating in all 50 states and has pledged nearly $6 million in scholarships to students for academic and humanitarian achievement.
He was set to retire on a golf course. He bought an organ and was determined to learn to play ("I just love Bach organ music, it just inspires me," he says.) He was going to learn a few languages.
With one speech that all changed. Carson took to the lectern at the National Prayer Breakfast in February 2013 — just a few months away from retirement from Johns Hopkins Hospital, where he spent nearly three decades as the director of pediatric neurosurgery. By the time he finished his 26-minute speech, challenging Obama on health care, taxes, spending and the direction of the country with the president himself seating a few feet away, he was a bona fide star. The Wall Street Journal's editorial board posted a piece titled "Ben Carson for President."
"Honestly, after the prayer breakfast things began to happen that I wasn't anticipating," Carson says. "Then the question became can you just walk away and do what you want to do and just leave all of those people who were just clamoring and saying you've gotta do this."
A few months later, supporters launched the National Draft Ben Carson for President Committee. It raised more than $7 million in less than a year of existence. It has deployed staff members to Iowa and South Carolina and purchased tables at Republican events throughout the country. The group, according to Federal Election Commission filings, is gathering reams of supporter, fundraising and digital data that could be purchased and utilized by Carson's campaign should he decide to give the green light. It's a little like Ready for Hillary, the outside group pushing for the former secretary of State to jump into the 2016 race. 
Except the Carson group actually outraised Ready for Hillary last quarter.
For Carson himself, months of exploring have started to shift into action. He launched his own political action committee to support his nascent campaign in August (called USA First PAC.) He has named his campaign chairman (Houston businessman Terry Giles.) He even knows the first thing he'd do if elected (call for a joint session of Congress, where he will pledge to bridge the divide that has split the two parties.)
Carson's current operation is lean. Candy, his wife of nearly 40 years, is a constant presence in everything he does. Giles, Logan Delany, another businessman, his son Murray, and Mike Murray, the CEO of a direct marketing firm, form his inner circle. He relies heavily on Williams, the consultant and owner of a handful of television and radio stations. Williams is his front door. To get to Carson, you must go through Williams, his friend of more than two decades. They used to speak every morning on Carson's commute to work at Johns Hopkins.
Carson says that while he genuinely feels called to 2016, he hasn't made up his mind. But he's written a whole book — Take the Risk — about the process of making up ones mind, the premise of which is to assess key moments in his life with four questions.
What's the best thing that can happen if I do this?
What's the worst thing that can happen if I do this?
What's the best thing that can happen if I don't do this?
What's the worst thing that can happen if I don't do this?
Asked if he's applied those questions to a presidential campaign, he laughs, then briskly runs through his answers: "I have concluded that the worst thing that could happen is everybody hates me and you ruin your reputation and you still lose and that's pretty awful. But when I think about the best thing that could happen, which is we stop fighting each other as a nation, we begin to take a leadership position in the world, we put the constitution back on the top shelf, we stop picking and choosing losers and winners we stop picking and choosing which laws we want to enforce, everybody feels like they are getting a free shake, people begin to trust the government again and we release the economic engine and we provide a pathway for those who are downtrodden to realize the American dream and they forsake the dependency, boy when I think about that versus what could happen to me, there is no comparison."
Williams joins the interview with Carson as the allotted time is about to run out — punctuality is very important in the Carson operation, as in the operating room. "There are very few who actually think like us," says Williams, who serves as a crucial sounding board to Carson. Sometimes that means punching the holes in the surgeon's arguments. Other times, it's helping him after he "gets the foot in mouth disease," as Williams put it.
Carson is now regularly receiving policy briefings (though Carson declines to name the advisers for fear of "getting them in trouble.") About a dozen volunteers are sifting through what Williams characterized as "thousands" of requests to volunteer for the campaign. A fully formed political team will be ready to join Carson after the midterms, where most are currently committed to congressional races. ("Lots of talent," Williams says.) Carson says the outcome of those midterm elections will go a long way to determining whether he gives the operation the green light. (Big Republican wins would push him toward "yes.")
"If people listened to Dr. Carson six months ago, today it's as if you're seeing this transformation," Williams said. "He's being transformed into a presidential candidate."
Then Carson interrupts him: "I will not evolve into the typical politician."
---
Correction: An earlier version of this story misspelled the name of Carson adviser Logan Delany.
(Corrects the spelling of Carson adviser Logan Delany's name in the 26th paragraph.)
Before it's here, it's on the Bloomberg Terminal.
LEARN MORE