Braley Gains Ground with Independents in Iowa Senate Race
Iowa's largest voting bloc supports the Democrat by a five-point margin, according to a new poll.
by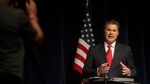 Democrat Bruce Braley is gaining ground with Iowa's independent voters in his race against Republican Joni Ernst for Senate, a poll released Wednesday by Quinnipiac University shows. 
The survey shows the contest remains highly competitive, with Ernst having the support of 47 percent of likely voters and Braley backed by 45 percent. That compares to a 50 percent to 44 percent lead for Ernst in a mid-September Quinnipiac poll.
Independent voters, Iowa's largest voting bloc, support Braley over Ernst, 48 percent to 43 percent. That's a shift from Ernst's 50 percent to 43 percent lead among these key voters last month.
"The Iowa Senate race, which could be key to control of the U.S. Senate, is too close to call and likely will remain close all the way to Election Day," Peter A. Brown, assistant director of the Quinnipiac Poll, said in a statement. "Independent voters have made a 12-point left turn in four weeks, going from 50 – 43 percent for state Senator Joni Ernst to 48 – 43 percent for U.S. Representative Bruce Braley."
The gender gap in the race also appears to be widening, with women backing the Democratic man 52 percent to 39 percent, up from 50 percent to 44 percent last month. Men back the Republican woman 56 percent to 38 percent, virtually unchanged from September.
"The twist that makes this Senate race one of the most interesting, in addition to being among the tightest and most important in the country, is the reverse gender gap," Brown added. "Women are forsaking their sister because she is a Republican. Meanwhile, men are voting for the women candidate by an even larger margin for the same reason. Voters are choosing partisanship over gender when it comes to making their ballot choice."
Braley leads 51 percent to 37 percent among those who already have voted, the poll shows. Three weeks before Election Day, 89 percent of Iowa's likely voters who name a Senate candidate say their mind is made up, while 10 percent say they might change their mind.
Before it's here, it's on the Bloomberg Terminal.
LEARN MORE