Mark Zuckerberg and Wife Give $25 Million to 'Critical' Ebola Fight
Elizabeth Wasserman and Sarah Frier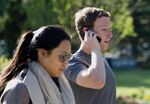 Facebook Inc. founder Mark Zuckerberg and his wife, Priscilla Chan, are donating $25 million to the U.S. Centers for Disease Control's nonprofit arm to help fight Ebola, saying most governments don't realize the disease is at a "critical turning point."
The grant from Zuckerberg and Chan's donor-adviser fund at Silicon Valley Community Foundation is for the CDC's Ebola response in the three West African countries most affected -- Guinea, Liberia and Sierra Leone -- and "anywhere in the world where Ebola poses a threat to health," according to an e-mailed statement from the CDC Foundation.
"We need to get Ebola under control in the near term so that it doesn't spread further and become a long-term global health crisis that we end up fighting for decades at large scale, like HIV or polio," Zuckerberg said in a Facebook post today. "We believe our grant is the quickest way to empower the CDC and the experts in this field to prevent this outcome."
The gift from Zuckerberg and Chan, who is a physician, will provide "flexible funding allowing CDC to address the most pressing needs as the epidemic shifts and evolves," Charles Stokes, president and chief executive of the CDC Foundation, said in the statement.
The grants will benefit frontline responders who are setting up care centers, training staff in Africa and identifying Ebola cases, Zuckerberg said.
Giving Goals
Zuckerberg fielded questions about the donation on his Facebook page, including one from a commenter who asked why he felt the need to donate, rather than letting the U.S. government handle the issue.
"One problem right now is that most people -- including government leaders -- don't realize we're at such a critical turning point," he said. "Spending $25 million to help get this under control now is very little cost compared to all the lives it could save and all the billions of dollars of costs we'd have to spend fighting the disease if it spread much further."
The CDC Foundation, chartered by Congress, is a private, nonprofit organization classified as public charity, not a division of the CDC.
Zuckerberg is the 13th-richest person in the world, with $32 billion, according to the Bloomberg Billionaires Index. As his wealth rises, he has ramped up his involvement in public and political issues, from education in New Jersey to infrastructure development in Africa. He has donated to candidates in both the democratic and republican parties and started an advocacy group called Fwd.us to lobby for changes to U.S. immigration policy.
Before it's here, it's on the Bloomberg Terminal.
LEARN MORE