The Other Guy Ruining the GOP's Chances in South Dakota
An interview with Gordon Howie, a three-term state legislator running as a Conservative independent.
by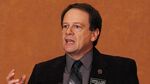 SIOUX FALLS, S.D. — One week ago, D.C. Republicans were in a state of perfect tranquility about South Dakota's U.S. Senate race. They scoffed at Mayday PAC's entry into the field, on behalf of written-off Democrat Rick Weiland. After the Democratic Senatorial Campaign Committee jumped in with its own $1 million buy, my old colleague John Dickerson got a boldly anonymous GOP strategist to pronounce it a "head fake." Simultaneously, the National Republican Senatorial Committee was... reserving $1 million in TV time. It was the rare head-fake response to a head-fake, rarely seen in nature.
The resulting ad just went up across this red state:
This is not very difficult to break down. Former Senator Larry Pressler, a Republican-now-independent who voted for Barack Obama twice (while donating to Republicans), surged after months of being ignored. A SurveyUSA phone poll last week found him just 3 points behind Republican Mike Rounds. Yet according to that poll, Pressler was drawing basically the same proportions of Republicans and Democrats — around 30 percent. When Pressler was removed from the poll, his voters broke 52-31 for Weiland. The job, for Republicans is to 1) remind Republicans that they shouldn't like Pressler anymore and 2) keep the anti-Rounds vote split between both candidates, informing voters that it doesn't matter if they back the indie or the Dem.
The only wrinkle in the plan is a man who sat down for coffee with me this morning. Gordon Howie is a three-term state legislator who opposed Rounds from the right during the six years they overlapped in Pierre. He pushed for a "Health Care Freedom Act" to solidify the state's opposition to the Affordable Care Act; he accused Rounds of squelching it. He opposed any tax increases; Rounds did not.
In 2010, Howie ran a conservative campaign for governor inside the GOP, running fourth. This summer, he jumped into the Senate race as a conservative independent. At a forum yesterday, Howie challenged Rounds to testify under oath and answer questions relating to the ongoing EB-5 visa scandal. From his traveling "Truth Train," he offers voters bumper stickers that read "I'm for God, Guns & Gordon."
"There are high level GOP operatives, in and out of the state, who have tried to negotiate me out of this race," Howie told me. "They approached me as recently as last week."
He would not name the operatives; he would only rephrase what they asked him. "There were no hard offers," he said. "The question was more of a what-if: 'Well, what if you dropped out?' And I said, 'You can take these proposals and throw them in the Missouri river.'"
These were the only serious offers Howie had heard. I asked him about rumors that Democrats or progressive groups might come in to build up his name ID. "No," he said, "but if they're on the fence, tell them 'yes!'" According to Howie, Republicans in and out of office had been whispering that they supported him but didn't want to come out and say so. They would only come out, he suggested, if and when Rounds imploded.
"The ice is very thin, and shaking," he said. "This was Rounds's race to lose, and he's losing it. If he's contradicted on the EB-5 story, by a document, just one more time, I think the ice breaks under him."
Before it's here, it's on the Bloomberg Terminal.
LEARN MORE