Hillary Clinton Jokes About Weed
Bill Clinton didn't inhale but his wife sees pot in her coffee. How times have changed.
by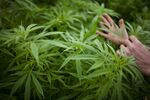 Campaigning in Colorado with Senator Mark Udall, Hillary Clinton looked into her latte and reported seeing a pot leaf.

No, Clinton isn't promoting legalization of recreational marijuana, at least not yet. But it's certainly on her mind as she campaigns in this ganja-loving swing state.
"You got like a plant. Is that a marijuana plant?" she says, referring to a design in the coffee's foam, in this ABC News video. 
Clinton has said she supports medical marijuana "for people who are in extreme medical conditions" and wants to "wait and see" how recreational pot works in Colorado and Washington state.
"There are younger people here who could help me understand this and answer it," Clinton said on CNN. "At the risk of committing radical candor, I have to say I think we need to be very clear about the benefits of marijuana use for medicinal purposes. I don't think we've done enough research yet, although I think for people who are in extreme medical conditions and who have anecdotal evidence that it works, there should be availability under appropriate circumstances. But I do think we need more research because we don't know how it interacts with other drugs."
Before it's here, it's on the Bloomberg Terminal.
LEARN MORE