Here's What People Think Obama Should Do to Fight ISIS
As the president meets with foreign chiefs of defense from around the world, he's getting a lot of conflicting advice from the Sunday talk show crowd.
by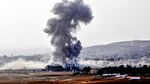 President Obama will meet with representatives of the nations fighting against the Islamic State on Tuesday to discuss the current military strategy. The meeting will be attended by the president's military commanders, along with more than 20 foreign chiefs of defense from around the world, including Saudi Arabia, Britain, France and Turkey. 
Defense Secretary Chuck Hagel said Monday that the meeting would give the leaders a chance to discuss each country's specific contribution to the campaign. But while Obama meets with global defense leaders, voices closer to home have their own ideas about what America's contribution should be. From politicians who think we need a "broader strategy" to the debate over a no-fly zone in Syria, the only constant seems to the belief that U.S. airstrikes are not going to bring about a quick end to this campaign. 
Special Forces, Buffer Zone and Weapons
For better or worse, no one seems to be more sure about what they think needs to happen in Iraq and Syria than Senator John McCain. "First of all, they're winning and we're not," McCain said Sunday on CNN's "State of the Union." "There has to be a fundamental re-evaluation of what we're doing because we are not ... degrading and ultimately destroying ISIS." Not only are the airstrikes not working, McCain called for a ground presence in the form of "air controllers, special forces and other people like that," arming the Kurdish Peshmerga force, a buffer zone in Syria, and a no-fly zone over the region.
Senator Bernie Saunders, who appeared on "State of the Union" after McCain, criticized most of McCain's points but also supported arming the Peshmerga. "I think providing arms to those people we can trust and providing air support is in fact something we should do," Saunders said. 
While sending in ground troops is one debate, the issue of setting up a buffer zone in Syria (along the Turkish border) is equally divisive. The U.S. wants to convince Turkey to help prevent the fall of Kobani, a Syrian border town, and allow the U.S. to use a Turkish base. Turkey ultimately wants Syrian President Bashar al-Assad to step down, and setting up a buffer zone in Syria would help Syrian rebels fight against Assad's forces. The problem is that enforcing that buffer zone would involve fighting against Syria's air defenses or working with Syria despite its human rights violations. General Martin Dempsey, the chairman of the Joint Chiefs of Staff, is against the idea of a buffer zone because the U.S. might be forced to enforce it for years. Secretary of State John Kerry, however, said last week that the idea was "worth looking at very, very closely."
(Somebody's) Boots on the Ground
Congress is reluctant to vote to authorize ground troops in Iraq and Syria — unless the president explicitly asks them to — but that hasn't stopped its members from suggesting that the current plan isn't working. House Majority Leader Kevin McCarthy said last week on CBS's "Face the Nation" that there should be specials forces on the ground "if that's what the generals say." At the very least, we shouldn't tell the enemy what we will or won't do, he argued, as have several others. "Evidence is mounting that an 'Iraq first' approach focused on airstrikes isn't degrading ISIL," House Armed Services Chairman Buck McKeon said in a statement. McKeon called for a "broader strategy." 
But the favorite non-committal answer is the idea that we need somebody's boots on the ground. Maybe Americans, maybe someone else's, just not the boots we have right now. Late last month, Speaker John Boehner criticized the president for saying what he wouldn't do, and argued that airstrikes alone won't work. "Maybe we can get enough of these forces trained and get 'em on the battlefield. But somebody's boots have to be there," Boehner said on ABC's "This Week with George Stephanopoulos."
Senator Marco Rubio said Monday that the strategy involving local troops was "ideal" but "deeply flawed," and the best solution likely "will involve some coalition of ground forces from outside of Iraq to defeat ISIS." Who that coalition would involve isn't clear. Former British Prime Minister Tony Blair said last month that it would "certainly" take ground troops to defeat the Islamic State, but "the question will be whether, can those people, if they're supported locally, can they do that job or will we have to supplement that?" 
Tell America to Have Some Patience
Not everyone is convinced that the airstrikes strategy isn't working. National Security Adviser Susan Rice said Sunday on NBC's "Meet the Press" that this campaign is going to take time. "We are in the early stages of what is going to be, as President Obama has said, a long-term effort," Rice said, adding that the air campaign is off to a "strong start." Former Defense Secretary Leon Panetta agreed that it will be a long campaign. "I think the president has to prepare the country for a long and sustained battle against ISIS," he said during an appearance on the "Daily Show" last week. Panetta called on the president to call Congress back to vote on authorizations "because this is a war." 
Before it's here, it's on the Bloomberg Terminal.
LEARN MORE