Grimes Doubles Down on Vote Secrecy In Kentucky Senate Debate
Given the opportunity to clarify whether she voted for President Obama in 2008 and 2012, the Democratic Senate nominee cited her constitutional right to keep mum.
by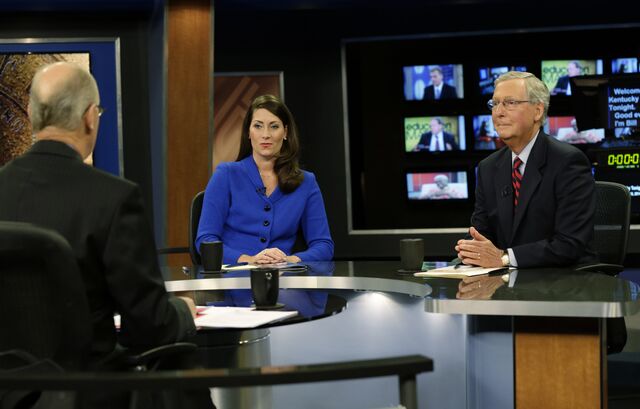 Citing a "constitutional right" to keep her vote secret, Kentucky Secretary of State Alison Lundergan Grimes, the Democratic nominee for Senate, again declined to say who she voted for in the 2008 and 2012 elections. 

"I'm not going to compromise a constitutional right provided here in Kentucky in order to curry favor on one or other side, or for members of the media," Grimes said during Monday night's debate in Lexington in response to repeated questions from Kentucky Educational Television's moderator Bill Goodman. "I'll protect that right for every Kentuckian." 

For Grimes, the comments represented a double-down on an issue that has come front and center in the campaign in recent days. For McConnell, it was a line of questioning his campaign craftily made sure to keep center stage with this ad released the morning of the debate:


McConnell pressed the issue Monday night, declaring that there is "no sacred right to not announce how we vote." 

"I voted for Mitt Romney proudly," he said. "I voted for John McCain."

As the state's chief election official, Grimes said the decision to keep private her vote was a matter of principle, and one she's tasked with defending across the state. 

Still, Grimes' answer, which was quickly circulated by national Republicans, risks obscuring anything else that comes out of the debate, including fight over McConnell's position on raising the minimum wage the followed shortly after.
For her part, Grimes worked throughout the debate to paint the Senate Minority Leader as obstructionist. She attacked McConnell for his opposition to the Affordable Care Act, citing the state-based insurance marketplace in Kentucky that has found success, and throughout the early portion of the debate sought to tie the five-term incumbent to billionaire industrialists David and Charles Koch. At one point she referred to the brothers, heavy financial supporters of Republican causes, as part of McConnell's "family." 
The two also sparred over what kind of Democrat Grimes intends to be, with Grimes calling the difference between a Clinton Democrat, as she describes herself, and an Obama Democrat about "growing the middle class the right way." 
"There's not a dime's worth of difference between a Clinton Democrat and an Obama Democrat," McConnell responded. 
Before it's here, it's on the Bloomberg Terminal.
LEARN MORE