Ebola Cases Prompt Casey to Press Federal Hospital Funding Cause
A public health scare could boost federal spending on preparedness, which U.S lawmakers have cut during the past decade.
by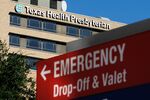 Hospital training and education programs have seen their federal cash sliced in half since 2003. The Ebola outbreak in Africa and cases in Texas may be changing that. 
"Both parties have not spent nearly enough time focusing on the needs of our public health system," Senator Bob Casey, a member of his chamber's committee that oversees the issue, said in an interview. "But I do know we're going to have a chance to debate this appropriation, and I think we should take advantage of the intensity of the issue."
The annual funding for hospital training and education programs is $255 million this year, down 50 percent since 2003, according to a new report from the Congressional Research Service. 
Casey, a Pennsylvania Democrat, said President Barack Obama should propose a supplemental budget that covers additional money for hospital preparedness, Ebola research and vaccines. "I would hope so. I think they should," Casey said.
Budget officials at the White House haven't yet determined whether additional resources are needed beyond this year, Emily Cain, a spokeswoman for the Office of Management & Budget, said in an e-mail.
Casey, who is planning a hospital tour in his state to assess readiness there, asked top Senate appropriators on Monday to increase money for hospital preparedness to $375 million, the level the program has already been authorized. 
The Oct. 9 report from CRS notes the money has helped improve emergency coordination between hospitals, such as tracking evacuated patients and available hospital beds. "Nonetheless, the economics of the healthcare market push hospitals toward leanness and efficiency, and away from the redundancies and reserve capacity that a health system needs in order to surge for a mass casualty incident," according to the report. 
Bloomberg News reported Monday that a plan to increase the amount of money for public health agencies is now a priority in the appropriations committees of the House and Senate. The injection of new dollars would be added to a bill aimed at keeping the government running past December 11. 
"I don't know what public health benefit we get by not having that $120 million," Casey said in an interview.
The cuts in the hospital program are consistent with decreases to other federal sources of health preparedness funding, according to the National Center for Disaster Preparedness. That includes more than $1 billion in cuts to the Centers for Disease Control  from 2005 to 2013.
According to the Trust for America's Health annual "Ready or Not" report, the cuts have reduced capacity for mass vaccine and antibiotic distribution, limited the capability of laboratories and led to more than 45,700 job losses at state and local health departments.
Casey said investing in public health preparedness before a medical scare is "like fixing your roof on a sunny day."
"We have had some sunny days," Casey said, "and now it's a rainy day and we have some leaks in the roof."
Before it's here, it's on the Bloomberg Terminal.
LEARN MORE