Democrats Give Up on Winning Kentucky Senate Race
Alison Lundergan Grimes is also facing a backlash from MoveOn.org, which is running a voter turnout operation in Kentucky.
by and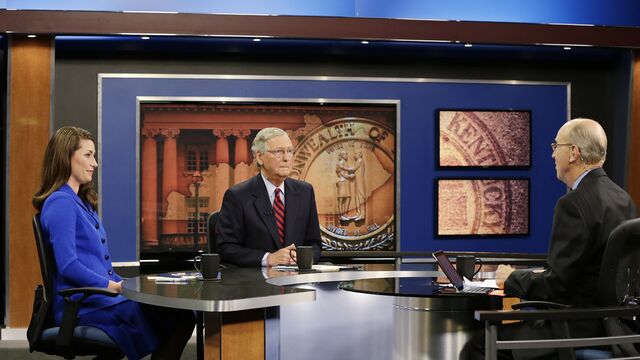 It might be time to turn out the lights on Kentucky Democratic Senate candidate Alison Lundergan Grimes. Her own party just did.

An official at the Democratic Senatorial Campaign Committee confirmed today that it has pulled its ads off of television in the Bluegrass State, capping off a terrible 24-hour cycle for the challenger to Minority Leader Mitch McConnell.
First, Grimes was widely mocked on social media during last night's Kentucky Senate debate for again refusing to answer whether she voted for President Barack Obama. Then, the liberal group MoveON.org attacked her today for calling undocumented workers "illegal aliens" in ads.

"MoveOn members in Kentucky and across the country are contacting millions of voters to help prevent a Republican takeover of the Senate, and it makes that important work harder when Democrats embrace inflammatory Republican rhetoric," Brian Stewart, a MoveOn spokesman, in an email. "It's deeply troubling that Grimes would stoop this low in order to try to defeat McConnell, and she needs to take this offensive advertisement off the air immediately."

The news from the DSCC suggests that in the cut-throat world of political triage, Grimes is one of her party's first damaged candidates to be cast off. Still, the DSCC official said, the party has already put more than $2 million into the state and is pushing money into the ground game there, so it's not a total abandonment. 
Before it's here, it's on the Bloomberg Terminal.
LEARN MORE