Chris Christie and Jeb Bush Have Major Iowa Problems
They may be popular with swing voters, but Republicans in this crucial caucus state are not sold: Bloomberg Politics/Des Moines Register Poll.
by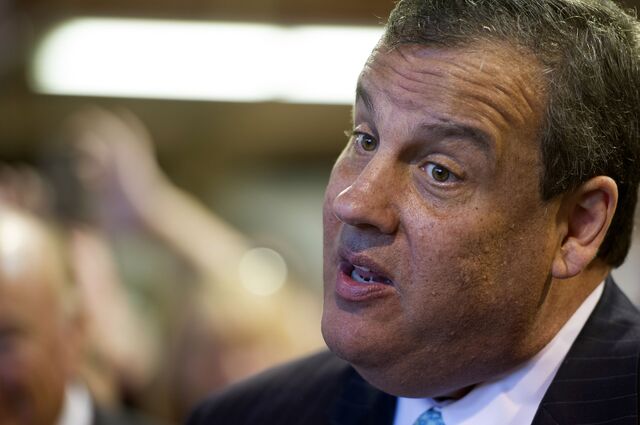 Chris Christie and Jeb Bush are both among the Republican Party's most popular governors to ever lead big states, New Jersey and Florida. It's a little state, though, that could trip up their presidential ambitions. Simply put: Iowa Republican caucusgoers don't like either of them very much.
"I see a failure in both of those guys to stand with conservative thinkers," Dave Peters, a Baptist pastor from Waterloo, Iowa, said in describing his opposition to Bush and Christie.
"They're lifetime politicians, and that says it all," said Judy Devries, a mental health counselor in Council Bluffs.
"Disgraceful opportunists," said John Beeson, a retiree from Peru, Iowa.
Iowa's status as the first state to hold a presidential nominating contest every four years gives the small Midwestern state an oversized role, dooming the campaigns of some contenders and giving momentum to others. In a Bloomberg Politics/Des Moines Register Iowa Poll released Tuesday, likely Republican caucusgoers were asked who would be their first pick for the party's 2016 nomination. Bush stood at 4 percent, Christie came in at 6 percent, and "not sure" got 9 percent.
The party's 2012 nominee, Mitt Romney, was the top choice with Ben Carson, a neurosurgeon turned Republican activist, coming in second. The poll comes more than a year before the Iowa caucus and at a time when many voters are just starting to think about the congressional elections next month, and many respondents said they don't know enough about either. Yet the results still raise some red flags for two candidates generally viewed as among the most electable Republican presidential contenders in a general election.
Christie, the New Jersey governor who won a landslide re-election victory in 2013, was the most disliked Republican out of 16 potential contenders included in poll. The poll of 425 Republicans likely to participate in the party's presidential caucuses was taken Oct. 1-7 and has a margin of error of plus or minus 4.8 percentage points. It was conducted by Selzer & Company of Des Moines, Iowa.
Forty-five percent of respondents said they had an unfavorable view of Christie, 15 points higher than the Republican with next highest unfavorable rating.
And with just 39 percent saying they held a favorable view of Christie, he's essentially the only Republican underwater on that question. (Ohio Senator Rob Portman recorded an unfavorable rating of 10 percent and favorable rating of 9 percent — while 81 percent said they didn't know enough about him to answer the question.)
Interviews with poll respondents show what's hurting Christie, at least to a degree, is his brusque personality. His frequent tongue lashings, such as referring to political opponents as "numbnuts," may play well in New Jersey, but it's repelling some of the more polite Midwestern voters.
"He's a very pompous individual when it comes to getting in front of the cameras," said Steven Starnes of Ringsted, Iowa, of Christie. "He's a show-off, and that's an automatic turn off for me."
Several likely Iowa caucusgoers also said they're skeptical about the traffic jams his aides and allies created at the world's busiest bridge last September, which Democrats suspect were politically motivated. Christie, 52, has denied any role in ordering lane closures at the George Washington Bridge in Fort Lee, whose Democratic mayor didn't endorse the governor's re-election.
"It may or may not be his fault, but that bridge thing doesn't sit very well with me," said Phil Metcalf, a retired pharmacist in Decatur County. "I haven't seen anything that Christie's done that has looked that great to me."
Bush is held in contempt by some voters for backing national educational standards, including a program known as Common Core, and his support for easing immigration laws.
"I don't like his stand on immigration," Devries said. "The people who storm across the border are criminals, but we don't treat them as such."
The caucusgoers say the Bush family legacy would be an issue — and it cut both ways.
A sense of familiarity put some at ease. Approval of his father, former President George H.W. Bush, and his brother, former President George W. Bush, gave Jeb Bush a leg up with voters like Rhonda Agan. "I know that family wouldn't be tolerating the terrorists that Obama is putting up with right now," the stay-at-home mom said, referring to the U.S. airstrikes against the Islamic State militants in the Middle East.
But others said another Bush in the White House is one too many. "Good God," said Beeson. "Doesn't this country have someone who isn't named Clinton or Bush to run for president?"
Before it's here, it's on the Bloomberg Terminal.
LEARN MORE