Ann Romney: Mitt's 'Done'
She appears to rule out a 2016 bid.
by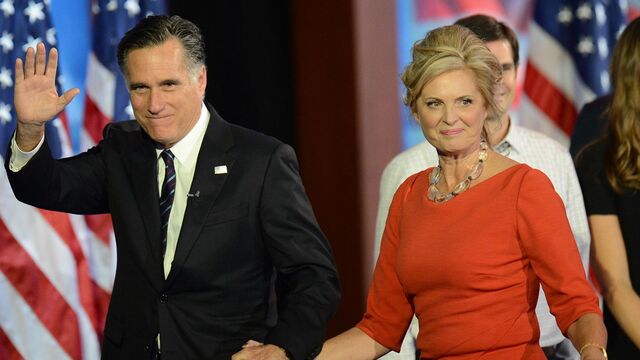 Ann Romney says she's done with presidential campaigns.
Speaking to the Los Angeles Times in a story published Monday, the wife of the 2012 Republican presidential nominee seemed to lay to rest the question of whether her husband would attempt a third presidential bid.
"Done," she said, according to the story. "Completely. Not only Mitt and I are done, but the kids are done. ... Done. Done. Done." She name-checked at least three other Republicans as "really interesting" potential candidates: Former Governor Jeb Bush, Senator Rob Portman and Representative Paul Ryan, Mitt Romney's former running mate.
She also told the Today Show's Maria Shriver (another former governor's wife) that the campaign "was hard."
"We've done it," Ann Romney said. "We've had our turn."
The media appearances came two days after a Bloomberg/Des Moines Register poll found Mitt Romney with a one-point edge versus former Secretary of State Hillary Clinton in Iowa, 44 percent to 43 percent. The Los Angeles Times story focused on Ann Romney's efforts to raise money for a neurological disorder research facility where Marc Mezvinsky, Clinton's son-in-law, will sit on the board.
Of course, spouses don't always get the last word on campaigns. The Washington Post reported Monday that Mitt Romney's "friends said a flurry of behind-the-scenes activity is nudging him to more seriously consider" running again.
"There is a feeling that the country missed out on an exceptional president," former Minnesota Governor Tim Pawlenty told the Post.
Before it's here, it's on the Bloomberg Terminal.
LEARN MORE