Elizabeth Warren Base-Jumps Into Midterm Finale
Elizabeth Warren, populist firebrand and fundraising juggernaut, is ready to rile.
by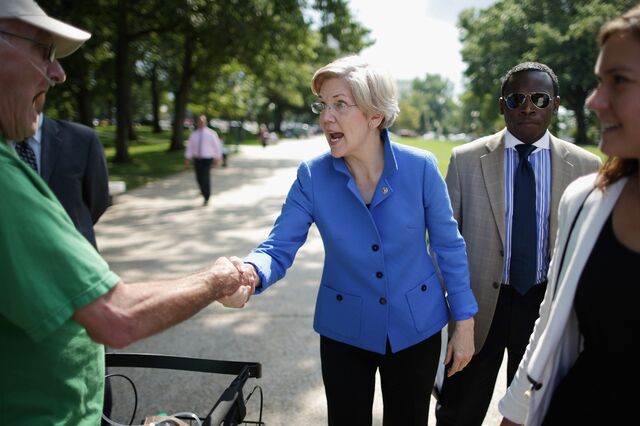 Fresh from going after President Barack Obama and his economic team for siding with Wall Street (again), Massachusetts Senator Elizabeth Warren is heading back to the campaign trail to try and boost three of her Democratic colleagues. 
"With just 22 days to go until the election, I've decided this week to go back to Colorado and Minnesota for Mark Udall and Al Franken, and to go to Iowa for Bruce Braley," Warren said in a fundraising e-mail. 
Warren's decision to dive into Colorado and Iowa means the two endangered Democrats will be getting a boost from one of the party's premiere fundraisers and stars. A base favorite, Warren has brought in "over $6 million for Democratic candidates and committees this election cycle," she goes on to say in the e-mail. 
Warren continues to be the left's favorite potential 2016 non-candidate (she has repeatedly demurred about running herself, while saying that  Hillary Clinton "is terrific" and should run) and as her fundraising prowess shows, few can secure the support or checks like the consumer advocate-turned senior senator from Massachusetts. As for whether her populist message may cause problems in such close races? It's a populist, anti-establishment year on both sides, and the reviews of her swing through the red states in the summer were generally positive. But but that hasn't stopped Republicans from expressing some enthusiasm about tying their opponents to the hero of the left—something Jon Kohan, the campaign manager for Iowa Republican Senate candidate Joni Ernst, made clear with the following tweet: 
Before it's here, it's on the Bloomberg Terminal.
LEARN MORE