Obama Makes Cautious Return to Campaign Trail
With his approval numbers at record lows, Obama will hit the stump for Governor Dannel Malloy in a state he won in 2012 by 17 points.
by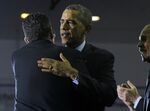 President Obama is itching to get back in the game. With Democratic control of the Senate hanging by a thread, and several statehouse races too close to call, the president, to his dismal approval ratings, has been relegated to the role of spectator. But on Wednesday that will change when the president makes a rare campaign appearance of the mid-term election, appearing alongside Connecticut Governor Dannel Malloy at a rally in Bridgeport. 
To be sure, Connecticut is friendly territory for Obama, the president carried the state by 17 points in the 2012 election, yet Malloy and Republican challenger Tom Foley are locked in a coin-flip contest. Inserting the president, whose approval rating in the state is in the low 40s, could be a risky move for Malloy, but one that the governor and the president are willing to try. 
"We're not bringing him in to suppress voter turnout, if that's what you're asking," Malloy joked last week in response to a reporter's question about the decision to bring in Obama.  
In an email sent to supporters, State Democratic Chairwoman Nancy DiNardo said Obama's visit to the state's largest city was meant to "fire up Connecticut Democrats."  
By contrast, the very mention of Obama's name in many races is enough to make Democrats recoil. Last week, Senator Mitch McConnell's campaign seized on Alison Lundergan Grimes' tongue-tied answer to whether she had voted for the president in the 2012 election.
Asked by NBC's Andrea Mitchell whether she wanted Obama to join her on the stump in New Hampshire, Democratic Senator Jeanne Shaheen replied, "Well, the president is dealing with a lot of crises in the world right now, and I think it's important for him to continue to address what's happening with ISIS, to continue to address the Ebola scare. So, I expect him to be in Washington." 
Unlike the First Lady, who remains in demand in battlegrounds like Wisconsin, Iowa, and Michigan, Obama has spend much of the past few months fundraising at closed-door events for the Democratic party in California and elsewhere. In fact, he's raised millions for Democratic candidates, even those who don't want to be seen with him at campaign events, at over 50 fundraisers this year alone. But for a man who drew record crowds during the 2008 election, the behind-the-scenes work is definitely a change. 
''There's a congenital problem that we have as Democrats, and that is, in nonpresidential elections, in midterm elections, we don't vote. We don't vote,'' the president told a few hundred donors at a Democratic National Committee event in San Francisco Friday night. ''But the main thing that I need right now is votes. We've got to mobilize. We've got to organize. We've got to knock on doors. We've got to make phone calls. If young people vote, if women vote, if people of color vote, if people who care about the environment vote, if people who care about LGBT rights vote, that's a majority.''
The calculus many Democratic candidates will have to make in the final weeks before election day is whether the president's skill as a campaigner outweighs his poll negatives. In Connecticut, anyway, there's one candidate who is about to try and find out. 
Before it's here, it's on the Bloomberg Terminal.
LEARN MORE