CDC: 'Breach in Protocol' Caused New Ebola Case
Criticizing the U.S. government's response to the Ebola cases, Senator John McCain said he doesn't know "who's in charge."
by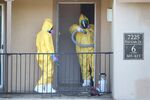 The head of the U.S. Centers for Disease Control and Prevention said Sunday that a "breach in protocol" exposed a Texas health care worker to Ebola, marking the nation's first transmission of the deadly virus that has ravaged West Africa in recent months.
"At some point, there was a breach in protocol," Dr. Thomas Frieden, the CDC director, said at a news conference. "And that breach in protocol resulted in this infection."
Test results of a hospital employee who treated Ebola patient Thomas Eric Duncan came back positive for the infection late Saturday night, Frieden said. Duncan traveled to the United States from Liberia last month and had been hospitalized in Dallas since Sept 28. He died on Wednesday. 
Authorities did not identify the new female patient, but said she provided care to Duncan on multiple occasions that included "extensive contact" with the patient.  She self-reported a high fever on Friday, was tested Saturday, and has been isolated.
Also on Bloomberg Politics: Ebola Flew to Dallas as Budgets to Fight Disease Waned
Results from additional tests to confirm the preliminary findings were expected later on Sunday. 
The news was a dominant topic for Sunday morning political shows, as health experts and elected leaders were asked to weigh in on the latest development. On CNN's State of the Union program, Senator John McCain said his constituents in Arizona "are not comforted," and then seemed called out the Obama administration for not doing enough to ease fears and educate the nation.  
"There has to be more reassurance given to them," he said. "I would say, we don't know exactly who's in charge. There has to be some kind of czar."
Before the conversation shifted to other subjects, McCain repeated, "Frankly, I'd like to know who's in charge, among other things."
The diagnosis in Dallas became the second known Ebola case to have been transmitted outside Africa; a nursing assistant is hospitalized in Madrid after becoming infected last month while treating two missionaries who had contact with the virus in West Africa.
"The care of Ebola can be done safely, but it's hard to do it safely," said Frieden on Sunday. "It requires meticulous and scrupulous attention to infection control. And even a single inadvertent, innocent slip can result in contamination."
The CDC director did not specifically identify the nature of the protocol breach in Texas, but said his department will be investigating two procedures in particular: the performance of kidney dialysis, and respiratory intubation. 
"Both of those procedures may spread contaminated materials and are considered high risk procedures," he said. "They were undertaken on the index patient as a desperate measure to try to save his life." 
More hospital workers in Dallas, who have been identified and are being monitored, could exhibit Ebola symptoms in the coming days, officials warned. 
In a statement, the White House said President Obama had been briefed and that he directed Sylvia Burwell, the head of Health and Human Services, to expedite the CDC's investigation into hospital protocols and quickly share findings with healthcare providers across the country.  
Before it's here, it's on the Bloomberg Terminal.
LEARN MORE