South Dakota Senate Air War Intensifies
Republican Mike Rounds runs his sharpest ads to date.
by and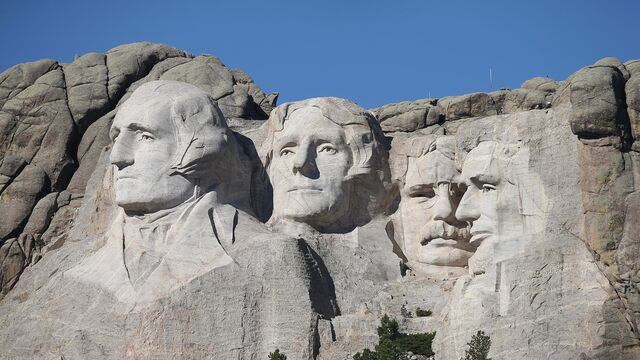 Republicans are stepping up their advertising efforts in the South Dakota Senate race in response to new Democratic spending, lighting up a state once considered a lock in the GOP's effort to net six seats and flip control of the chamber this year.
The National Republican Senatorial Committee's independent-expenditure branch plans to spend $1 million in television airtime to boost former Governor Mike Rounds, said a consultant to the group, Ron Bonjean, confirming a Politico report on Friday. The commercials will run in the Sioux Falls and Rapid City markets from Tuesday through election day, said a Democratic ad-tracking source.
Meanwhile, Rounds put two new ads on statewide television Saturday contrasting himself with opponents Rick Weiland, a Democrat, and Larry Pressler, a former Republican senator who is running as an independent. The ads contain the most direct and pointed criticism of the pair to date from Rounds, who previously refused to run negative commercials, and touch on a range of policy issues such as taxes, health care, the controversial Keystone XL pipeline, and gun control. 
"We'll probably be sharper and delineate our differences more than we have in the past," Rounds said in a phone interview on Friday evening about the final weeks of a now-frenzied race.
He insisted that his new, "sharper message" is not the same as going negative because it points to policy disagreements and avoids personal attacks. But he did say that with less than a month before the election, it was time to define his opponents more forcefully and "make sure people know there's not much difference between Mr. Pressler and Mr. Weiland in terms of their points of view on these issues."

South Dakota has been flooded with national attention in recent days, after polls indicated that Rounds, whose support has stalled in the mid-30s, is in a tighter-than-expected three-way race to replace retiring Democrat Tim Johnson. A fourth candidate, more conservative independent Gordon Howie, is also on the ballot.
On Wednesday, Bloomberg Politics first reported that Democratic Senatorial Campaign Committee, having watched the race tighten, decided to spend an unexpected $1 million to support of their nominee. The expenditure is going mostly toward television and has the potential to move the needle in a state where airtime is inexpensive. 
Since launching his campaign two years ago, Rounds has been battling with party operatives who believe he should have been running aggressive ads against his opponents from the start.
It's delicate issue for South Dakota politicians, particularly Rounds.
During his first bid for governor in 2002, Rounds was catapulted to the top of the Republican primary after two better-funded, better-known opponents were tainted in a mudslinging match. The race got so nasty that one candidate accused another of supporting a company that used cadaver tissue for cosmetic surgery while burn victims suffered from a shortage of skin. Voters revolted.
Rounds, rewarded for staying out of the fray, pledged never to run negative ads.
He's had no reason to, winning re-election in 2006 by about 25 percentage points. This year, it was clear early on that national Democrats planned to largely abandon the South Dakota race, turning their attention and resources to more competitive states. As an independent, Pressler has struggled to raise enough money to become a dominant force on the airwaves.
"Before, when their name recognition was low, it was more appropriate to make them buy their name recognition than me giving it," Rounds said about his strategy up until now. He said his campaign is not panicking and cited internal polling that shows him up by 13 points.
But the dynamics of this race have recently somersaulted. In addition to the DSCC money, Weiland is receiving help from Mayday PAC, which plans to spend $1 million trying to defeat Rounds. Weiland will also have a new commercial focused on his biography going up as soon as Saturday, the Democratic source said. Weiland's campaign bought $59,000 of airtime in Sioux Falls and Rapid City from Saturday to Oct. 16.
Pressler, who hasn't said which party he would caucus with, is now enough of a threat that he's drawing intense scrutiny and attacks like this ad from the liberal super-PAC Every Voice Action.
While Republican dominate state government in South Dakota, voters there are still comfortable sending Democrats to Washington — among them, George McGovern, Tom Daschle, and Johnson.
"We knew two years ago when we started that there would be a different style in a Senate race than there is in a gubernatorial race," said Rounds. "But the voters are the same."
Asked again if the adjustment was a sign his campaign is worried,  Rounds said that if anything, the tightening race may have a silver lining for Republicans.
"This is helpful to us because it's energized our base," he said. "We had a lot of complacency that we were concerned about. Now we're saying, 'Hey, get your yard signs. Send us 20 bucks.'"
Before it's here, it's on the Bloomberg Terminal.
LEARN MORE