Incoming Freshmen Seek Leg Up With Leadership PACs
The PACs can help ambitious freshmen gain notice and curry favor with party leaders.
by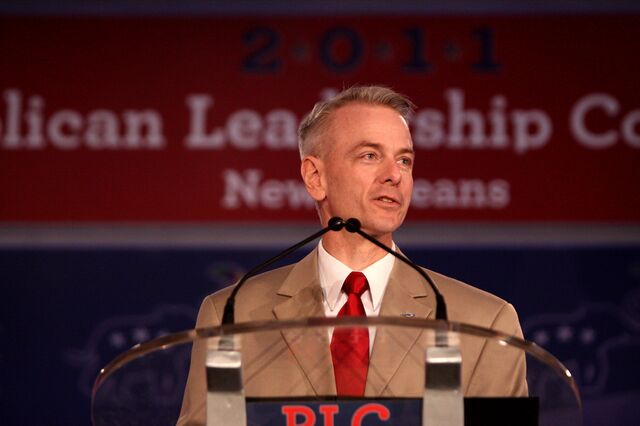 Steve Russell is three months away from taking a seat in Congress, and he's already created a leadership political action committee so he can make contributions to his fellow Republicans in closer races than his.
Russell's PAC, Deeds Not Words, filed its organizing papers Oct. 7 with the Federal Election Commission. Russell, a retired Army lieutenant colonel and former state senator, is favored to succeed Republican Representative James Lankford in Oklahoma's 5th District. Lankford is a shoo-in for the Senate seat of Tom Coburn, who is resigning with two years left on his term.
Russell is the latest in the string of soon-to-be members of Congress creating leadership PACs, which have evolved since they first appeared after Congress revised campaign finance laws in the 1970s. Henry Waxman created the first one in 1978, when the ambitious California Democrat won a key subcommittee chairmanship after making campaign donations to colleagues. The practice, controversial at the time, is common today.
Despite its lofty-sounding title, leadership PACs are now utilized by most members of Congress in the modern arms race of campaign fundraising. The PACs can donate to candidates and fund other political expenses, like for consultants and fundraisers. Marco Rubio used his PAC to boost Iowa U.S. Senate candidate Joni Ernst. Eric Cantor, the former House majority leader from Virginia, used his to give $1.8 million to Republican candidates in the 2014 election and also to underwrite some lavish fundraisers.
The PACs can help freshmen gain notice or favorable committee assignments by showing the party's real leaders that they will be team players. Members of Congress can donate more to candidates through their leadership PACs than through their personal campaign accounts. 
"These PACs are considered separate from a politician's campaign committee, providing donors with a way around individual campaign contribution limits," according to a helpful backgrounder from the Center for Responsive Politics.
In other words, leadership PACs are popular if not a prerequisite for current and would-be members of Congress.
"You can't play touch while the other guy's playing tackle," David Obey, a former Wisconsin Democratic congressman, said in the 1980s as a leadership PAC critic-turned-creator.
Russell in Oklahoma joins other candidates cruising to victory this year who have already created leadership PACs:
Don Beyer: The former Virginia Democratic lieutenant governor will succeed retiring Representative Jim Moran in the 8th District near Washington.
Mimi Walters: The California Republican will succeed retiring Representative John Campbell in the 45th District in and around Irvine.
Barry Loudermilk: The Georgia Republican will take the northwestern 11th District seat of Representative Phil Gingrey, who lost a Senate bid.
Aaron Schock was an early adopter of the tactic: the Illinois Republican created a leadership PAC after he won a key primary in 2008 and seven months before a November election he won overwhelmingly. Texas Republican Ted Cruz formed his leadership PAC a week after he was elected to the Senate in 2012.
Before it's here, it's on the Bloomberg Terminal.
LEARN MORE