GOP Stands By DeMaio After Harassment Allegations
"We don't make decisions based on unsubstantiated claims," the NRCC says.
by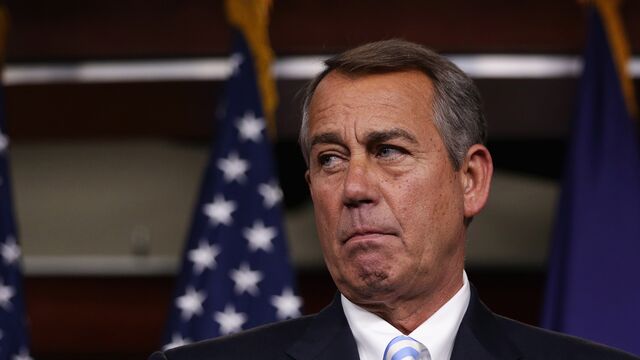 Republican leaders are sticking with California congressional candidate Carl DeMaio after he denied allegations of sexual harassment made by a former campaign staffer this week.
House Speaker John Boehner was set to go ahead with two fundraisers for DeMaio in San Diego on Saturday, a spokesman for the speaker said, while the National Republican Congressional Committee is actively defending him. "We fully support Carl DeMaio and we don't make decisions based on unsubstantiated claims," said NRCC spokeswoman Andrea Bozek. On the local level, the chairman of the San Diego County Republican Party told NBC News that "it's clear the silly season is upon us."
DeMaio, one of two openly gay Republicans running for Congress, could unseat Democratic Representative Scott Peters in the competitive 52nd District. The allegations against him first came to light this week. Todd Bosnich, DeMaio's former policy director, told CNN that DeMaio had massaged, kissed and groped him and masturbated in front of him during several incidents over the course of his employment. When Bosnich told DeMaio's campaign manager, he was allegedly told he shouldn't have told DeMaio he was also gay. Bosnich said that after telling DeMaio he needed to stop or end his bid, he was fired and bribed to stay quiet.
DeMaio has called the allegations an "outrageous lie" and said that Bosnich was fired for plagiarism. After being fired, Bosnich allegedly broke into the campaign office and destroyed computers and telephone lines. According to CNN, police haven't arrested anyone in connection to the break-in, and Bosnich denies both the allegations of plagiarism and breaking and entering. 
The episode is capturing attention in what was already a closely watched race.
Jess Durfee, the former chairman of the San Diego County Democratic Party, planned to protest outside the first fundraiser with Boehner on Saturday. It isn't just about the sexual-harassment allegations, he said.
The real problem with DeMaio, he said, is that "he's spent a lot of time trying to reinvent himself as a moderate, which we know locally is not the case." Peters has made that argument one of the central themes of his reelection bid.
Still, the seat remains one of Republicans' best pickup opportunities (the Cook Political Report rates it as a tossup). DeMaio's candidacy has also offered the GOP a chance to shed its reputation for not being inclusive, though supporters like Boehner have put more emphasis on parts of his platform other than social issues. "Carl DeMaio is a reformer and a champion of fiscal responsibility," Cory Fritz, a Boehner spokesman, told The Hill this week. "He'll be a strong voice for efficient and accountable government in our House majority."
Before it's here, it's on the Bloomberg Terminal.
LEARN MORE