Bloomberg/DMR Iowa Poll: Clinton Trails Romney
Paul Ryan and Rand Paul are also within the margin of error in head-to-heads with Hillary Clinton.
by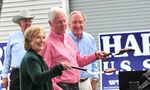 Iowa continues to look like an Achilles' heel for Hillary Clinton. 
A new Bloomberg/Des Moines Register poll shows the former Secretary of State trailing former Massachusetts Governor Mitt Romney in a hypothetical presidential contest in Iowa. Forty-four percent of likely Iowa voters said they would back Romney in a head to head match-up with Clinton, while just 43 percent would vote for Clinton.
Two other Republicans are also within single-digits of the former Secretary of State, suggesting a fierce fight ahead in a pivotal swing state in 2016. In a general election match-up among likely 2016 voters, Wisconsin Representative Paul Ryan, a former vice presidential candidate, trails Clinton by one point, at 43 percent, and Kentucky Senator Rand Paul is three points behind Clinton at 41 percent.
Governor Chris Christie, with 38 percent backing, trails Clinton by five percentage points, while former Florida Governor Jeb Bush's 39 percent puts him 7 points behind her. Senators Marco Rubio and Ted Cruz also lag Clinton, by 8 and 10 percentage points, respectively.
The results reflect a measure of familiarity with some in the Republican field. Romney and Ryan shared a national presidential ticket just two years ago and Paul's father ran in two Republican presidential caucuses. But Clinton's level of support also indicates political weakness for the former first lady, who has said she will make a decision about entering the race early next year. Despite the high approval ratings of her State Department years, Clinton remains a nationally divisive figure.
"I always remember years ago watching her. I'm saying: 'This person wants to run our country and she didn't know her husband had these tendencies,'" said Terry Ecklund, 63, a moderate Republican in Dysart, Iowa. "But there is this aura around the Clintons that's kind of hard."
Though Romney has stated that he has no plans to enter the GOP field in 2016, he campaigned again in Iowa on Sunday on behalf of Senate candidate Joni Ernst. 
"Incompetence in Washington is really holding back America," Ernst said in a statement over the weekend. "Mitt Romney cares deeply about the future of our nation." 
In the new poll, almost half — 49 percent — of likely Iowa voters in the upcoming midterm elections say they have an unfavorable view of Clinton, while 47 percent rate her favorably. Fifty-seven percent of likely voters have a positive opinion of her husband, former president Bill Clinton, and 39 percent view him negatively.
Also on Bloomberg Politics: Bloomberg/DMR Iowa Poll: Senate Candidates Just a Point Apart
The Iowa caucuses have never been a field of dreams for the Clintons. In their previous campaigns, Bill Clinton skipped the state caucuses in 1992 when favorite son Senator Tom Harkin made a run for the White House, and Hillary Clinton recorded a third-place finish in the 2008 Democratic presidential primary. Although Democrats have won Iowa in four of the last five presidential elections, the margins have been close and it's expected to be competitive again in 2016.
The new results come as Clinton returns to the political stage, kicking off a series of campaign events for Democratic congressional candidates that will take her across the country this month. On Thursday, she campaigned in Philadelphia for Democratic gubernatorial candidate Tom Wolf. Next week, she will travel to Kentucky and Michigan to support Senate candidates.
Her standing is better in some other purple presidential states. Clinton held at least a ten-point lead over Christie, Paul, and Ryan in Virginia, according to a Sept. 24 Roanoke College survey. In North Carolina and Florida, she held a lead of about 10 percentage points over Christie, according to two September surveys by Public Policy Polling. 
Some of the support for Clinton and Romney is intertwined with diminished opinion of President Barack Obama, whose 2008 primary victory in the state's caucuses propelled his first presidential bid. Among all Iowa voters, 18 percent say they still back Obama but not as much and 7 percent say they don't support him anymore. Just 27 percent say their enthusiasm remains the same, with 48 percent saying the never backed him.
"I believe Clinton is a leader," said Bill Graham, a retired teacher in Cedar Rapids, who backed Obama in the 2008 caucuses. "I've had a question about the last two presidents about their leadership qualities, and I think we're due for someone who takes a stand whether it's popular or not."
A majority, 54 percent, of likely Iowa voters say they have an unfavorable view of the president compared with 44 percent who view him favorably. If the 2012 presidential election was held today, 41 percent of the likely voters say they would back Romney while 39 percent would back Obama.
Voters remain negative about the future of the country, with nearly 67 percent saying the nation is on the wrong track and just 24 percent saying the country is headed in the right direction.
The poll was conducted by Selzer & Company from Oct. 3-8 with 1,107 likely voters in 2016 and has a margin of error of plus or minus 2.9 percentage points. The sample of 1,000 likely 2014 voters has a margin of error of plus or minus 3.1 percentage points.
Also on Bloomberg Politics: Mark Halperin and John Heilemann on the Bloomberg/Des Moines Register Iowa Poll
Before it's here, it's on the Bloomberg Terminal.
LEARN MORE