Olbermann's Clinton-Scandal Mea Culpa
The former MSNBC host apologized in 1998 for coverage of the Lewinsky scandal on "White House in Crisis."
by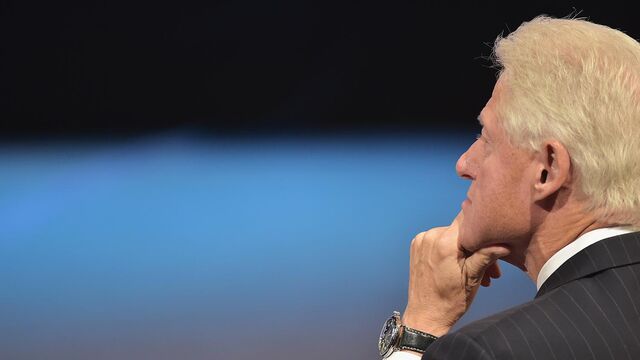 In 1998, veteran newsman and sportscaster Keith Olbermann apologized to President Bill Clinton for "whatever part I may have played in perpetuating this ceaseless coverage" of the Monica Lewinsky scandal.
Here's the part Olbermann played: He hosted a program on MSNBC called "White House in Crisis," on which he counted the days of the scandal. Clinton was impeached by the House in December 1998, and acquitted by the Senate in 1999. Olbermann found it all too much to bear, he told the president in the letter, an excerpt of which is contained in documents released for the first time today by the Clinton Library. "I'll be heading back to my previous career in sports as quickly as possible," he wrote.
Olbermann had just been profiled by the Washington Post's Howard Kurtz, who observed that the sharp-witted newsman was uncomfortable in his job. "I'm having the dry heaves in the bathroom because my moral sensor is going off, but I can't even hear it, I'm so seduced by these ratings that I go along with them when they say do this not just one hour a night but two," Olbermann had said at Cornell University a few months before the apology note.
White House officials discussed whether Olbermann should be given the stock response or something "a bit warmer."
The original return message teed up for Clinton's signature: "Dear Keith, Thanks so much for your kind message. I've been touched by the many expressions of encouragement and support I have received from friends across the country. I'm grateful you got in touch with me, and I send you my very best wishes. Sincerely, POTUS."
It was not clear from the documents made public today whether that's what Olbermann eventually received from Clinton. One of the Clinton aides copied on the messages was Jennifer Palmieri, who now serves as President Barack Obama's communications director.
Olbermann has since gone back to sports news. He ended the show "Countdown" on MSNBC in January 2011, shortly after he was suspended for donating campaign money to House Democratic lawmakers who appeared on his program. He now has a program on ESPN2.
Before it's here, it's on the Bloomberg Terminal.
LEARN MORE