Clinton Memo Reveals Unbelievable Plan to Spin Foster Suicide
This is the kind of Washington plot you'd see on television.
by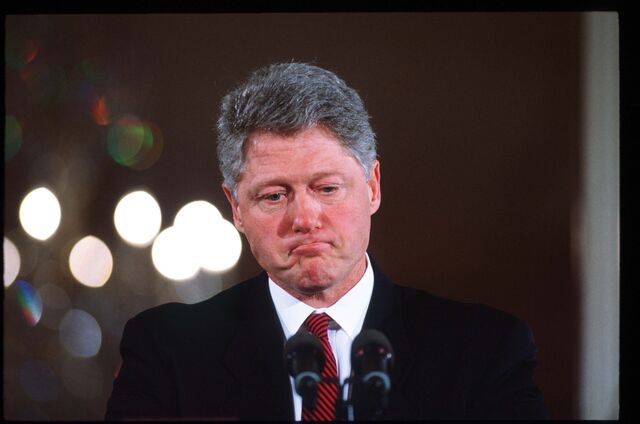 Clinton White House officials saw Vince Foster's death as a way to paint Republicans investigating the "Whitewater" land deals as tin-foil hat conspiracy theorists, according to new documents released today. And, in a plot twist worthy of Scandal's Olivia Pope, they tried to rope Bill Styron, author of "Sophie's Choice," into their plan as an op-ed writer.
"We feel that the one-year anniversary of Vince Foster's suicide on July 20th in conjunction with the beginning of congressional Whitewater hearings presents an appropriate opportunity to rebut conspiracy theories over his suicide, and to directly address the political motivations of those who continue to exploit the issue," White House officials David Dreyer and Julia Moffett wrote to Styron in June 1994. 
At the time, they wanted to place op-eds in the New York Times and Washington Post that would equate the Whitewater probe with false allegations and suggestions that Foster was killed to cover up for the Clintons. That memo and one written eight days later show the lengths to which White House officials felt they needed to go to defend the president in congressional hearings into the land deals.
"This is going to be a bad story," Dreyer wrote in the second memo, which was distributed to several Clinton administration aides, including W. Neil Eggleston, who now serves as President Barack Obama's top lawyer. Eggleston, Dreyer noted, "will supplement" the Styron op-ed effort "with more politically-directed pieces."
The memos, part of 10,000 pages of documents released Friday by the Clinton Library, show the White House's ambitions to regain control of every aspect of the hearings, including starting them on Thursday to give the White House a weekend to spin the coverage. 
Dreyer's instructions on political optics during the probes come right out of the Pope Associates' "Scandal" playbook:   "As the hearings unfold, the president should be hard at work on things the public cares about. We must counterpose our opponents' efforts to exploit Whitewater with the President working on health care and crime." 
He also sought to kill interest in the hearings with long, boring opening statements and no news. "We want to discourage coverage; and so, boring is better," he wrote. 
Before it's here, it's on the Bloomberg Terminal.
LEARN MORE