Clinton Comes to Terms With Being Hillary
Voters in 2016 may meet the real Hillary Clinton as she sheds the armor worn during her first presidential bid.
by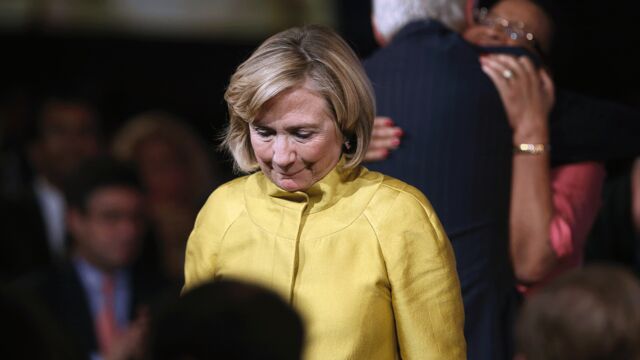 "I have a history with charismatic, attractive men who just wear me out.'' — Hillary Clinton, October 8, 2014
In those thirteen words, Clinton defined her place in American politics in the most personal terms, without a trace of self-conscious hedging or qualifying. Uttered almost as an afterthought in a discussion about President Barack Obama's pursuit of her for his Secretary of State post, Clinton bound together two presidencies and possibly a third: her own.
Her steadfastness during her husband's two terms was essential to his survival of the Monica Lewinsky impeachment scandal and allowed him to secure an economic legacy that has been the envy of his successors. Her endorsement of Obama's 2008 nomination and loyal service in his administration united the Democratic Party behind his presidency. Now, in what seems likely to be her second attempt to earn her party's nomination for president, those two men will move to supportive roles. But whether she ultimately succeeds will rest on Clinton coming to terms with being Hillary.
"This quote is the Hillary Clinton who a lot of voters longed to see," said Mary Anne Marsh, a Democratic strategist in Boston. "It's insightful. It's telling. She understands that on the one hand how funny it is, and on the other how true it is." 
Also on Bloomberg Politics: Mark Halperin's Daybook
Clinton's comment in a basement ballroom at the Fairmont Chicago hotel on Wednesday before nearly 1,000 well-dressed dinner attendees drew both guffaws and applause. Obama, fresh from his 2008 victory over John McCain, first asked her to join his Cabinet during a meeting in this very city, Clinton recalled.
"I said no, and I said no again, and I said no again. Finally, I just gave in. And, as I said to someone the other day, you know, I told my husband no, I wouldn't get married, no, and just gave in. And so, I have a history with charismatic, attractive men who just wear me out," she said. "In both instances, I would hasten to add, they were good decisions."
It's a revelatory nugget of thought that was delivered with the sort of frankness her top advisers in 2008 had begged her to embrace. She did so then, albeit somewhat late in the game. This time, she's starting early. If she opts for a second run at the White House, it will mean the candidate who arrives on the 2016 Democratic primary stage will be someone the voters haven't seen before. It could also mark the end of a two-decades-long unpeeling of the smart, brash, guarded young woman who arrived in Washington in 1992.
Getting from there to here hasn't been easy for her or her loyal lieutenants, and it took brutal, public losses to tear away at the armor she'd built up during her time as first lady — painful experiences that, ironically, were mostly delivered by the two men now so tied to her own page in history.
Clinton's endurance of the Monica Lewinsky scandal was one that many women watched with agony, anger and empathy, ties that would manifest themselves into passionate political support later. But that trial didn't expose her personally, quite the opposite. Her circle tightened; what the public read of her through it was often its own conjecture.
For the early stages of 2008 campaign, she was that hardened warrior. Clinton bested most of her male counterparts in the fall 2007 debates, projecting a rigid persona tough enough to manage the two American wars raging in Iraq and Afghanistan in a pantsuit.
But after leading in most early polls, Clinton's campaign stumbled badly in the Iowa caucuses as she came in third behind Obama and North Carolina Senator John Edwards. Suddenly, everything was riding on a win in the New Hampshire primary. A day before the election, she gathered with 16 undecided voters in the Cafe Expresso in Portsmouth and cracked, ever so slightly.
"My question is very personal, how do you do it?"' asked one of the women. She mentioned Clinton's appearance, her hair, everything always in place. "How do you, how do you keep upbeat and so wonderful?"
Clinton joked at first, and then her voice began to break and water welled in her eyes. "You know, this is very personal for me," she answered. "It's not just political. It's not just public. I see what's happening, and we have to reverse it."
As Edwards pounced, suggesting the near-tears would embolden the terrorists, women voters in New Hampshire and everywhere saw something else, something they knew: a strong woman so frustrated by the pigeonhole she'd been wedged into that it almost made her cry, as I wrote for Politico at the time. The only thing missing from the picture was a bottle of wine and a box of Kleenex. Clinton beat Obama the next day, in part thanks to female support.
The victory wasn't enough to stop the Obama movement, however, and Clinton faced another searing moment when she delivered remarks at the 2008 convention endorsing her former foe. It wasn't a speech, although billed as such. It was more an intimate conversation between Clinton and her people, mostly women, who were still seething.
"To my supporters, my champions — my sisterhood of the traveling pantsuit — from the bottom of my heart: Thank you. You never gave in. You never gave up. And together we made history," she said.
And then she pushed them into the Obama camp with tough love. "I want you to ask yourselves: Were you in this campaign just for me? Or were you in it for that young Marine and others like him? Were you in it for that mom struggling with cancer while raising her kids?"
Also on Bloomberg Politics: Three Republican Campaigns That Tell Us Where the 'War On Women' Is Headed
As she considers her 2016 options, some of the barriers to playing herself naturally in 2008 have been removed. Her tour as Secretary of State makes her more qualified to manage foreign affairs than any of the Republican men mulling a run. The armor can come off; the woman can emerge. Signs of that last evolution were evident this summer during her book tour, suggesting the electorate may also have a chance to meet and measure Hillary as a possible president. After a broad discussion about terrorism, immigration and medical marijuana on CNN in June, Clinton seemed ready for that introduction. 
Asked if she'd flinched from exposing her real self in 2008 because of her gender, Clinton ceded the point. The constant judging that came with being the first woman to get so close to a presidential nomination forced her into a "bad habit of constantly editing yourself."
"I used to complain to my, to the, to the men I was running against. We would be meeting before debates and I'd say, you know, it's really unfair. You guys get up; you take a shower; you shake your head; and you're ready."
"Why don't we just do that?" asked host Christiane Amanpour.
"Well, I tried that, too," Clinton said, laughing, "as you might have noticed."
Before it's here, it's on the Bloomberg Terminal.
LEARN MORE