Stephen King Thinks Maine's Senator Is a Horror Show
The author is endorsing Democrat Shenna Bellows against incumbent Senator Susan Collins.
by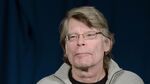 Horror novelist and lifelong Maine resident Stephen King has endorsed the Democratic candidate in the state's senate race. In a new commercial, King makes the case for Shenna Bellows, the former state ACLU director running against three-term incumbent Senator Susan Collins. 
"I've never worked so hard, or hoped so strongly for a change in leadership from the state of Maine," King says in the ad. Collins, he says, has voted with Republicans against the minimum wage and equal pay, while "Shenna Bellows would be a breath of fresh air." 
King first endorsed Bellows in a May editorial for the Bangor Daily News, arguing that while Collins "shows up, she does the job, she interacts with her constituents ... for this lifetime Mainer, however, she's on the wrong side of too many issues to deserve re-election." In July he tweeted:
Based on the polls, however, Maine Democrats haven't taken note yet. Bellows is running in a not-that-close race against incumbent Senator Susan Collins — an October 1 CBS/NYT/YouGov poll put Collins at a 24 point advantage. Bellows' hope is that she can turn out the vote from Democrats. Maine is one of the only states won by Obama that has a Republican up for election. "We're not trying to convince conservative voters that the should vote for progressive Democrats," Bellows told Bloomberg Politics last week. "If we win Maine's Barack Obama voters, we win this race."
Before it's here, it's on the Bloomberg Terminal.
LEARN MORE