8 Leaders Who Want to Close the Border for Ebola or ISIS
A review of those who don't buy those assurances that there is "no evidence" that ISIS fighters or Ebola carriers are crossing the Mexican border.
by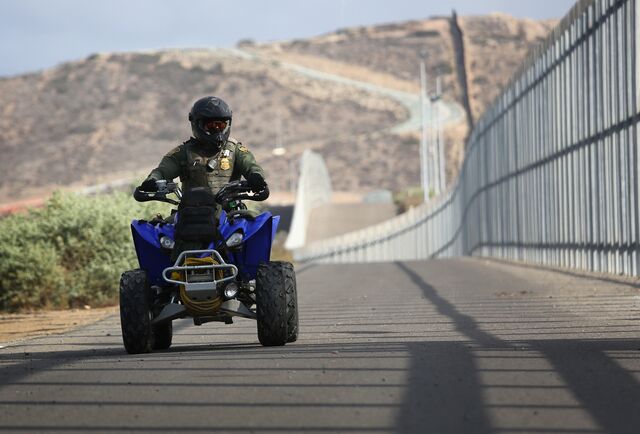 Whether because of a fear that Islamic State fighters or Ebola-infected illegal immigrants scurrying across the Mexican border into the United States, GOP politicians from all over the country are drawing attention to what they perceive as a security threat.
Here's a brief sampling of Republicans who don't buy the Department of Homeland Security's assurances that there is "no evidence" that ISIS fighters or sick people are planning to cross the Mexican border, and their proximity to the alleged crisis.
New Hampshire Senate Candidate Scott Brown
"She's [Democratic Senator Jeanne Shaheen] voted not to secure the border and I have and it's so critically important that we really use every tool, shut out every mechanism for them and that disease and other potential diseases to come into our country." 
Distance from the Mexican border: 1,800 miles
North Carolina Congressional Candidate Mark Walker
"If you have foreigners who are sneaking in with drug cartels, to me that is a national threat. And if we've got to go laser or blitz somebody with a couple of fighter jets for a little while to make our point, I don't have a problem with that, either."
Distance to Mexican border: 1,340 miles
Georgia Representative Phil Gingrey 
"Reports of illegal migrants carrying deadly diseases such as swine flu, dengue fever, Ebola virus, and tuberculosis are particularly concerning," Gingrey wrote in a July letter to the Centers for Disease Control and Prevention in Atlanta. 
Distance to Mexican Border: 995 miles
North Carolina Senate Candidate Thom Tillis
"We've got an Ebola outbreak, we have bad actors that can come across the border; we need to seal the border and secure it."
Distance from the border: 1,330 miles
Arkansas Senate Candidate Tom Cotton
"Groups like the Islamic State collaborate with drug cartels in Mexico who have clearly shown they're willing to expand outside the drug trade into human trafficking and potentially even terrorism. They could infiltrate our defenseless border and attack us right here in places like Arkansas."
Distance to Mexican border: 600 miles
New York Representative Peter King
"We definitely have to be on our guard. That's the type of thing that ISIS has to be considering. Obviously, the southern border is more porous and vulnerable. We have to absolutely be on our guard on the southern border."
Distance to Mexican Border: 1,700 miles
Louisiana Representative John Fleming
"To think that the cartels and the people who work for them are going to do the right thing, in the face of receiving probably lots of money from ISIS? No, ISIS would grease their palms, they would get help — and they would deliver whatever they wanted to harm or kill American citizens."
Distance to Mexican border: 480 miles
California Representative Duncan Hunter
"If you really want to protect Americans from ISIS, you secure the southern border. It's that simple…They caught them at the border, therefore we know that ISIS is coming across the border. If they catch five or ten of them then you know there's going to be dozens more that did not get caught by the border patrol." (Homeland Security vigorously denies any ISIS captures, calling Hunter's claims "categorically false.")
Distance to the Mexican Border: 0 miles


Before it's here, it's on the Bloomberg Terminal.
LEARN MORE