Paul Krugman Has Come Full Circle on Obama
Once a skeptic, he defends president on the cover of Rolling Stone.
by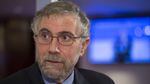 Nobel Prize-winning economist and New York Times columnist Paul Krugman has officially come around to President Obama, with a new cover story in Rolling Stone titled "In Defense of Obama."
Krugman probably wouldn't have written this four years ago, and his Rolling Stone piece opens with a brief summary of his evolution on the president — from skeptic, to justified and disappointed skeptic, to, more recently, liberal defender.
But that shift has been gradual, as his columns for the New York Times over the years show.  In 2013, after the White House and the Senate reached a deal in late 2012 to avoid a fiscal cliff. Krugman wrote that the episode showed the president wasn't willing to stand up for his beliefs, and "if he doesn't, nobody will ever trust him again, and he will go down in history as the wimp who threw it all away."
But despite his early disappointment with the president, he argues that Obama will be remembered as a "consequential" and "successful" president. In Rolling Stone, Krugman writes the president's achievements include:
Obamacare: it works, and "health reform has made America a different, better place."
Dodd-Frank: it isn't toothless, and will "at least make future crises less severe and easier to deal with"
The economy: his economic policies redistributed wealth, "and liberals should give him credit."
Climate change: Obama has taken significant action against climate change through EPA regulations
"I don't care about the fact that Obama hasn't lived up to the golden dreams of 2008, and I care even less about his approval rating," he writes. "I do care that he has, when all is said and done, achieved a lot." But for a while he did care about the failed dreams of 2008. 
During the president's first term, Krugman earned a reputation for being the president's strongest liberal critic. New York magazine called him "the leading exponent of a kind of liberal purism against which the compromises of the White House might be judged," in 2011, while a 2009 Newsweek cover story ("Obama Is Wrong") focused on the economist's opposition to Obama's concessions to the right and the need for a larger stimulus. 
But during the president's second term Krugman started seeing a shift in Obama's legacy towards something promising. In December 2013 he defended critics of the president's speech about income inequality and praised him for "finally sounding like the progressive many of his supporters thought they were backing in 2008." In January 2014 he noted that, "actually, Obama has been tougher on the one percent than most progressives give him credit for." 
And four months ago, Krugman argued that the successes of Obamacare and the president's work on climate policy helped make up for the missed opportunities of his first term. "In terms of policy substance Mr. Obama is having a seriously good year," Krugman wrote. "In fact, there's a very good chance that 2014 will go down in the record books as one of those years when America took a major turn in the right direction." At the very least, the president can argue that his relationship with Krugman took a turn in the right direction.
Before it's here, it's on the Bloomberg Terminal.
LEARN MORE