Mary Landrieu Is Having All the Fun on the Campaign Trail
The Louisiana Senator has had her share of fun on the campaign trail.
by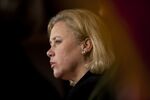 Mary Landrieu may be dangerously close to losing her Senate seat, but she's having a helluva time doing it. Stumping for votes at Southern University over the weekend ahead of the school's homecoming football game, Landrieu was filmed doing the "Wobble" with a group of students, and doing it quite impressively, at that. Have a look:
Landrieu, who yesterday ousted her campaign manager in a last-minute shakeup, was spotted at helping a man at a keg stand before an LSU football game. 
Not everyone was impressed by Landrieu's keg stand assist, and the Senator wasn't shy about letting people know what she thought of her critics. 
"They need to get a sense of humor, and they need to get a life — it's just the way we roll," Landrieu quipped. 
Before it's here, it's on the Bloomberg Terminal.
LEARN MORE