Will Republicans Blow It?
With money and campaign strategy, Democrats have kept it close. But can they overcome the national mood?
by and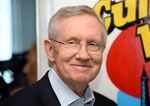 Republicans have positioned themselves to win the Senate, but they're haunted by one nagging question: Will they blow it again?
Mitch McConnell, the party's leader in the Senate, is in a dead heat with Democratic challenger Alison Lundergan Grimes in Kentucky. Kansas Senator Pat Roberts is in danger of losing to an independent. And in North Carolina, Republican Thom Tillis has trailed Senator Kay Hagan in every public poll in the last month.
"The Democrats are hanging around," said South Dakota Senator John Thune, who is helping raise money this week for the National Republican Senatorial Committee.
That's bringing back bad memories for Republicans who lived through the 2010 and 2012 election cycles, when a spate of fatally-flawed candidates cost the GOP opportunities to win control of the Senate. One veteran Republican strategist said the thought of choking again sends a shiver down his spine.
This time, Republicans should have the wind at their back: President Barack Obama has an approval rating that has dipped below 40 percent at times and hasn't surpassed his disapproval level since the spring of 2013. Republicans have run well-funded, on-message campaigns that have some polling experts and prognosticators giving them a better-than-even chance of knocking Democrats from power in November.
"They've played a perfect game," former Ohio Representative Steve LaTourette, the head of the moderate Republican Defending Main Street Super PAC, said in an interview. "If we're not successful in November, it's because it wasn't meant to be."
Rather than 2010 and 2012, Republicans prefer to compare this cycle to the 2006 Senate election, when they dropped six seats to Democrats. In that year, with President George W. Bush floundering in polls, and the top races all broke toward Democrats.
"The shoe's on the other foot," LaTourette said.
That has been a regular topic among GOP operatives and lobbyists for months (the NRSC first touched on it in March) and it's started to take hold, as laid out in detail here by The Washington Post's Chris Cillizza.
Obama reinforced the idea that he'll have an effect on his party's candidates by saying that his policies will be on the ballot. Republicans across the country jumped on the comment to hammer Democratic opponents as the president's water-carriers.
One advantage the Republicans didn't have this year is the element of surprise and the Democrats have marshaled every resource to defend and protect their candidates—even pressuring the White House to forgo a promised executive order on immigration rules that could have provided more fodder to the opposition. 
Obama's unpopularity has only underscored their push to make each race state-specific. In North Carolina, it's about education. In Alaska, the push is on Republican challenger Dan Sullivan not being from the state. In Georgia, where Democrats still see a pickup opportunity in candidate Michelle Nunn, it's about David Perdue's business record.
"We've localized these races. It's not about the president, it's about their candidates," said Justin Barasky, the communications director of the Democratic Senatorial Campaign Committee. "We think if the election was held today we'd hold the majority."
Perhaps more important, an early and sustained blitz of tightly coordinated outside spending and a group of incumbents willing to grind out hard-fought campaigns have kept Democrats in the game.
"For every encouraging bit of news there are too many cautionary signs that tell you control of the Senate is far from a sure thing," said Paul Lindsay, spokesman for the GOP super-PAC American Crossroads. "In the spring, it was easy to say Senate Democrats were running strong campaigns. Now, most of them appear to be running scared but are being supported by an outside spending advantage in many of these states that is keeping them alive."
Senate Majority PAC, the central Democratic operator in the outside money sphere, poured $26.5 million in independent expenditures for candidates through the end of August, according to Federal Election Commission filings. The group, run by former aides to Senate Majority Leader Harry Reid, sent another $6 million to an affiliated group to boost Alaska incumbent Senator Mark Begich.
The efforts have helped Hagan maintain a steady, if small, lead over Tillis. An open seat in Michigan, at one point considered a pickup opportunity for Republicans, has stayed firmly on the Democratic side of the ledger in poll after poll. The NRSC cut its TV advertising in the race this week.
That still leaves an expanded map for Democrats to try and defend, with incumbents in New Hampshire and Colorado facing a new infusion of outside Republican money. American Crossroads, Crossroads GPS and Freedom Partners Action Fund are spending heavily in competitive states, including Iowa, Arkansas and Louisiana.    
Outside groups from both sides are jamming the airwaves in Iowa, where Representative Bruce Braley, the Democrat running for the state's open Senate seat, has struggled to beat back Republican candidate Joni Ernst. He was down by as many as 6 points in a Des Moines Register poll last month.
Braley angered some Iowans when he scoffed at the idea that Republican Senator Chuck Grassley, who is highly respected at home, might take over the chairmanship of the Senate Judiciary Committee. Braley, speaking to fellow lawyers in Texas, called Grassley "a farmer from Iowa who never went to law school."
Thune said Republicans are benefiting from a role reversal this year in which it's Democrats who are "stepping in it." One reason Democrats have been such tough foes, though, is that Braley-style slip-ups have been limited.
Still, for some Democrats in heavily Republican states, even a perfectly run race might not save their seats. Incumbents in Arkansas and Louisiana are trailing in recent polls. Begich's seat remains in the toss-up category. Montana, South Dakota and West Virginia, all states where the incumbent Democrat is no longer on the ballot, look to be firmly in the hands of Republicans.   
A highly touted ground game, early voting and advantages on the digital operations side are viewed by Democrats as the Election Day differentiators in races with razor-thin margins.
Republicans are quick to push back on the power of the Democratic ground efforts, citing their own investments in staff, voter contacts and technology throughout this cycle. In addition, the Republican National Committee and the NRSC have raked in cash to spend in the final weeks of the campaign.
The RNC, which is handling the party's ground operations, has spent $100 million for the midterms, Sean Spicer, the group's communications director, said in an October 1 memo to reporters. Acknowledging Democrats will put more money into turnout operations, Spicer said, "it takes a lot of money for Democrats to try to run away from an unpopular president in unfriendly red states."
The fact remains that Democrats, with less than a month until Election Day, still may beat back another Republican charge.  It just won't be for the same reasons as the last two cycles. "I don't anticipate that we'll have some of the unforced errors that we've had before," Thune said.
Before it's here, it's on the Bloomberg Terminal.
LEARN MORE