Senate GOP Could Try to Recruit Party Switchers
A potential target: Joe Manchin.
by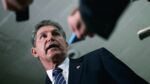 If Republicans come up just short of winning control of the Senate at the ballot box this fall, they could try to get one or more Democratic senators to switch parties.
"I have a feeling there will be some offline conversations going on if that happens," South Dakota Senator John Thune, the Republican Conference chairman, told Bloomberg Politics. Thune said he's confident that Republicans will win power the old-fashioned way in November, but acknowledge there could be a Plan B.
There's a precedent for that: Senator Harry Reid, now the majority leader, helped persuade then-Senator Jim Jeffords to leave the Republican Party and give Democrats power when the Senate was split 50-50 in 2001.
Not all switches are made to shift power from one party to another. Connecticut Senator Joe Lieberman moved from Democrat to independent so that he could run in the 2006 general election after he lost a primary to Ned LaMont. Most recently, the late Pennsylvanian Arlen Specter flipped from Republican to Democrat in an unsuccessful bid to keep his seat in the 2010 election.
Joe Manchin, a West Virginia senator who has broken with President Barack Obama on an array of issues, could be the top target for the GOP, according to one former Senate Democratic aide. Manchin told Politico in April that he's never thought about it. "How would you switch parties?" he asked.
Before it's here, it's on the Bloomberg Terminal.
LEARN MORE