One Month Ago, We Saw the Ray Rice Video. What's Changed?
Annie Linskey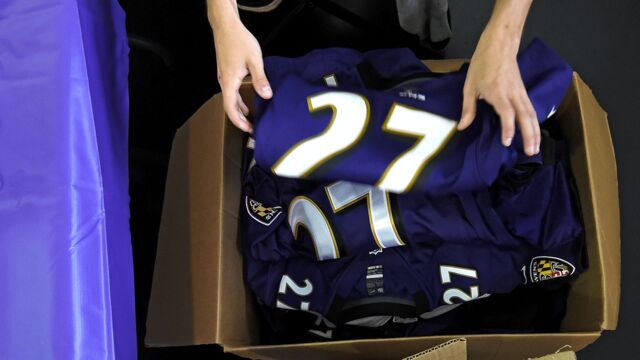 On Sept. 8, a shocking video of Baltimore Ravens football player Ray Rice knocking out his then-fiancee in a hotel elevator appeared on TMZ.com. By the end of the day, Rice had lost his job and been suspended by the NFL.
A month later, not much else has changed.
Despite calls for the resignation of NFL Commissioner Roger Goodell, renewed attention on the broader problem of domestic violence and hints that Congress might call for hearings into the matter, advocates for victims of domestic violence say there has been little tangible evidence of change. Meantime, another stunning case involving Minnesota Vikings running back Adrian Peterson, accused of brutally whipping his toddler son, shocked fans further.
There are some encouraging signs, mostly anecdotal. Advocates report more calls to domestic violence hotlines, and are encouraged by what they say is a change in attitude toward victims.
One concrete step may come as soon as Wednesday, when NFL owners are scheduled to meet in New York and hear details of a new domestic violence, sexual assault, and child abuse prevention program. For advocates, it can't come quickly enough.
Here's a look at other developments.
1. The NFL keeps minting money
Nielsen data from the last month shows only a slight decline for NFL broadcasts, to 18.1 million viewers per average minute from 18.3 million a year ago – a decline that could be attributed to less exciting matchups between teams or even better weather luring fans outside. Women viewers – a focus of NFL marketing plans – are down as well, but only slightly.
The league hasn't released figures on merchandising or attendance, but information collected by ESPN suggests that the average number of spectators per game hasn't dropped. Roughly 69,500 went to each game so far this season compared to last average attendance of 68,400 per game for the entire season. Rice's former team, Baltimore, is still selling out home games.
The NFL has made some moves to address their public relations problems, appointing Anna Isaacson, a vice president for community affairs, to develop policies on sexual assault and domestic violence. Cynthia Hogan, a former aide to both President Barack Obama and Vice President Joe Biden, signed on to run the NFL lobbying shop in Washington. As a Senate staffer, she helped pass the Violence Against Women Act.
And Goodell, despite a widely panned press conference in which he admitted mistakes in handling the Rice case, is still on the job. Most experts think he'll keep it unless revenue drops.
2. Congress remains silent
Congress issued a raft of threats in the immediate aftermath of the the video. Sixteen of the Senate's 20 women demanded that the NFL institute a zero-tolerance policy on domestic violence. New legislation has been drafted to end tax-exempt status for professional sports leagues.
Then Congress left town to campaign for midterms, without scheduling any hearings.
One senator and three congressional aides from different offices all said the same thing to Bloomberg Politics: The appetite to address the issue hasn't changed, and they expect Congress to take some action when it returns. The focus, they said, would likely to be on the NFL rather than a larger look at domestic violence.

"The moment has by no means passed," said Senator Richard Blumenthal of Connecticut. "This issue will remain with us."  

NFL teams have a "special set of benefits," he said. He's proposed squeezing one of them: An anti-trust exemption that allows the 32 teams to bargain collectively for  lucrative TV deals rather than compete with one another. Under Blumenthal's plan, the league would need to reapply for the exemption every five years. The senator reported running into a team owner — he wouldn't say who — at a Democratic fundraiser Tuesday night. The owner took him aside and said the bill "has got my attention," Blumenthal recalled. 

Another bill getting attention was written by Senator Cory Booker of New Jersey. The legislation would attack the pro leagues' nonprofit status and transfer the windfall to domestic violence groups. The senator estimated that it would raise $100 million over 10 years.
But it's not clear that revoking nonprofit status would cause much real harm to the NFL, said Kristi A. Dosh, a former instructor in the sports management program at the University of North Florida who has written extensively on the topic.
Major revenue streams for the NFL, including the NFL Network, national sponsorship deals and merchandise sales, flow through NFL Ventures — a for-profit arm of the league that does pay taxes. "There's not that much revenue to speak of in the league office," she said. Moreover, she said, it's possible that a for-profit league could re-jigger its accounting practices to show a loss.
3. Groups pushing for change are not working together
Neither Congress nor the main domestic-violence advocacy groups are coalescing around any set of policy prescriptions to address broader issues, such as sentencing guidelines and work place policies. Timing is part of the issue here: Congress recently re-authorized the Violence Against Women Act, and advocates are still celebrating that success. "There's not any new type of legislation we're initiating on this," said Katie Ray-Jones, the CEO of the National Domestic Violence Hotline.
"As far as what's changed in a month, I would tell you probably not a lot," said Ruth Glenn, the executive director of the National Coalition Against Domestic Violence. "There hasn't been great momentum yet."
4. Reports of domestic violence are way up
The National Domestic Abuse Hotline attributes a sustained increase in calls to the Rice video. The organization is accustomed to taking in 500 to 600 calls a day, mostly from women. Immediately after the Rice video aired, calls spiked to 1,400 in a single day. Over the past 18 days the group has received an average of 950 calls a day.
To help field these calls, the the group is getting a five-year "multimillion-dollar" grant from the NFL, Ray-Jones said, though she wouldn't specify the amount. The money is already being used to double the size of the call staff, she said.
5. Fewer people are blaming the victim now
Perhaps the largest change remains anecdotal. Domestic violence advocates uniformly say  that people they speak with are talking about spousal abuse in a much different way. Fewer people are blaming the victim.
"For someone whose worked in the field for more than 15 years, that's amazing to see," said Ray-Jones with the Hotline. "Something was so horrible about that video that it's created a space for a national conversation unlike any we've had before."
Bloomberg Politics' Victoria Graham contributed to this report.
Before it's here, it's on the Bloomberg Terminal.
LEARN MORE