Obama Should Take Lessons From Bill Clinton, Scalise Says
Derek Wallbank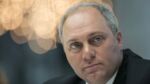 To defeat the Islamic State and avoid a showdown next year over the debt limit, a top House Republican has some advice for President Barack Obama: channel Bill Clinton.
"Bill Clinton worked with a Republican House," Majority Whip Steve Scalise, the third-ranking U.S. House Republican, told Bloomberg News editors and reporters today in New York. "Clinton got most of the credit, but they actually solved real problems."
Clinton cut deals with Republicans in Congress to balance the budget after spending fights that led to government shutdowns in the mid-1990s.
Obama, on the other hand, hasn't yet engaged with lawmakers on how to raise the U.S. debt limit, or outlined a clear plan for a U.S.-backed coalition to defeat Islamic State in Syria and Iraq, said Scalise, a Louisiana Republican.
Among Republicans, "there's a real interest in having the president laying out a broader plan" to defeat Islamic State, Scalise said. "If he lays out a clear plan, then we'll support it."
Lawmakers have been reluctant to vote to authorize force more than a decade after the U.S. invaded Iraq. Three-quarters of Americans thought the Iraq war was worth it in early 2003, according to a Gallup survey; in the latest Gallup survey in June, 57 percent said it was a mistake.
Spending Bill
Scalise said Republicans plan as part of the federal-funding process to insist on policy changes limiting government regulations that he argued are impeding the economic recovery.
Current government funding runs through Dec. 11. Scalise said he'd like to have an omnibus bill that would set new spending levels for the fiscal year ending Sept. 30, 2015, rather than continuing current levels.
No decision has been made yet, he said.
Scalise said he thinks "something will get done" on reauthorizing terrorism risk insurance before the end of December. The House will probably also act on tax extenders and will have to consider how to extend the permission already given to train Syrian rebels, which also expires Dec. 11.
After that, the next major fight could be on the debt limit. The debt ceiling suspension lasts until March 15, though the Treasury Department could use extraordinary measures to extend it.
'Spending Problem'
The U.S. borrowing limit is reached because of spending disagreements in Washington, and "to increase the debt ceiling, it ought to be tied to reforms that finally solve the spending problem," Scalise said.
Democrats have said the debt limit should be raised without conditions to avoid spooking financial markets and because rising levels of U.S. debt come from spending that Congress has already approved.
A debt-ceiling increase with conditions is a measure Republicans may put on Obama's desk in his last two years -- especially if they take control of the Senate in the Nov. 4 elections -- that could force the president to sign or veto legislation he's threatened to block before, Scalise said.
Others include legislation to approve the Keystone XL pipeline and expand energy production on federal lands.
"It sets up a contrast, but it also gives the president the opportunity to work with us to get the economy moving again," he said.
Ronald Reagan
That contrast will be drawn as Republicans turn their attention to the 2016 presidential election, with what Scalise said is a wide-open field in his party. His ideal candidate: The next Ronald Reagan, someone who can communicate conservative principles with ease.
Scalise said Representative Paul Ryan of Wisconsin, the 2012 Republican vice presidential nominee, has that ability.
"He's proven that he can come up with really smart ideas, but also convey them to regular people," Scalise said. Others who may be good Republican presidential candidates, he said, include his state's governor, Bobby Jindal, and Indiana Governor Mike Pence.
Scalise was elected whip in June after then-Majority Leader Eric Cantor lost his primary to a Tea Party-affiliated political novice, Dave Brat, causing a shakeup in the House Republican leadership ranks. Scalise, as whip, is responsible for ensuring Republicans have the votes to pass their bills.
Scalise's advice on channeling Bill Clinton is ironic because House Republicans impeached him, and the former president's wife, Hillary Clinton is the leading prospect for the 2016 Democratic presidential nomination.
Scalise says that so far, Obama has spent time "bashing Congress, but he's not spent a lot of time building relationships with Congress," and he's doubtful the president can change that course.
"I don't know if Barack Obama's got that in him," Scalise said
Before it's here, it's on the Bloomberg Terminal.
LEARN MORE