Nana Secretary?
Hillaryland isn't saying what her new granddaughter might call her.
by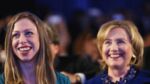 The most tightly guarded secret in Hillaryland these days might have nothing to do with the former secretary of state's presidential ambitions. It could be what her granddaughter, Charlotte Clinton Mezvinsky, will call her.
Nana? Grams? Mimi? Bubbe?
For most families, that question is no small thing.
"This generation of grandparents takes the whole naming process more seriously than ever," Lin Wellford, coauthor of "The New Grandparents Name Book: A Lighthearted Guide to Picking the Perfect Grandparent Name," said for an article published on the website of the American Grandparents Association.
Grandfather Bill Clinton called one of his own grandmothers Mammaw, according to his autobiography, "My Life." 
Aides to Hillary Clinton and her daughter, Chelsea Clinton, declined to answer what Charlotte will call her maternal grandmother. And three people close to Hillary Clinton said they couldn't pry an answer out of her when they asked.
If you have thoughts on what would make a good nickname, send them to jallen149@bloomberg.net and we'll publish the best entries.
Victoria Graham contributed to this report.
Before it's here, it's on the Bloomberg Terminal.
LEARN MORE