In the Silicon Valley Money Midterm, It's Super Wednesday
Party, party time on Manzanita Way in Woodside, Calif.
Annie Linskey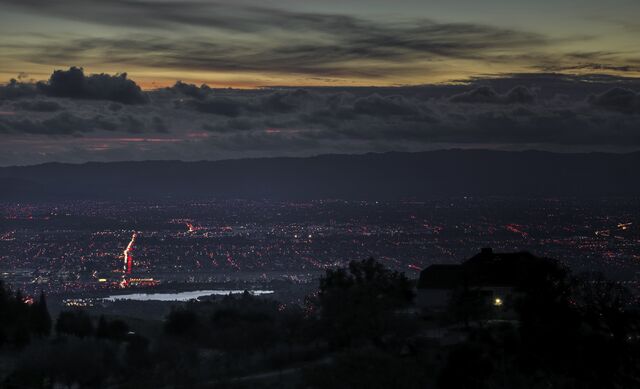 On Manzanita Way, a road in Woodside, Calif., two tech billionaires, John Doerr (a Democrat) and Larry Ellison (a Republican) are holding dueling fundraisers just miles apart Wednesday to support the parties' respective Senate campaign committees.

Manzanita Way is Silicon Valley's gold coast, a rural-seeming road on which are concealed a series of palaces. Ellison's may well be the most luxe. Inspired by a Japanese emperor's 16th century country home, it took nine years to build and is said to have cost some $200 million. Its most memorable feature is a koi pond so large it's sometimes described as a lake. Doerr's is comparatively modest—though in 2011 he had a dinner for Obama where the collective net worth of the guests' companies was $938 billion. Guests included Ellison. 
Silicon Valley is Democratic territory where fundraising is concerned. So far this year 84 percent of contributions from that Woodside neighborhood went to Democrats, so Republicans have a heavy lift. This is likely why Ellison's guest-of-honor is Rand Paul, whose libertarian views have caused a frisson in some corners of the tech world and who's opened an office in San Francisco to try to tap into the sentiment. Rand will update the group of tech CEOs— reportedly including Cisco's John Chambers—about on his efforts on privacy and reigning in the National Security Agency, according to one source familiar with the event.  
Doerr, of course, is the eminence grise of Silicon Valley venture Capital, having invested early in Facebook, Google, Genentech and Twitter, among others—which makes him a champion Democratic bundler. He and his wife, Ann, will host former President Bill Clinton, along with a passel of sitting Senators. 
Woodside is among the nation's richest targets for political fundraising. See this chart of contributions from the zip code.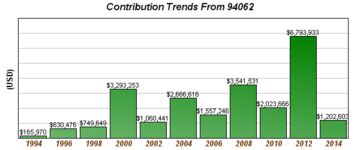 Before it's here, it's on the Bloomberg Terminal.
LEARN MORE