The Defender in Chief
One Democrat certainly isn't running away from the president's record – Michelle Obama.
by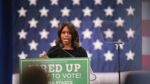 Michelle Obama campaigned for both Democrats and her husband's legacy during a stop Tuesday in her hometown of Chicago, offering a vigorous defense of his presidency at a time when it has been stung by low approval ratings and global problems.
"Barack's last campaign wasn't in 2012," she told a heavily black audience of more than 5,000 inside a half-full university arena on the city's West Side. "Barack's last campaign is this year, 2014."
The first lady's primary purpose for the appearance was to boost Illinois Governor Pat Quinn, who is facing a strong challenge from billionaire Republican businessman Bruce Rauner. But she also used the stop as an opportunity to remind Americans how much the nation has progressed economically under her husband's watch.
"Remember how bad things were when Barack took office?" she asked. "We were in full-blown crisis mode. Our economy was literally on the brink of collapse. Wall Street banks were folding."
The first lady rattled off numerous economic, educational and other statistics to make her point.
"By almost every economic measure, we are better off today than when Barack took office," she said.
Later, she added: "While we still have a lot of work to do, we have truly made so much of that change we were talking about."
The first lady is ramping up her appearances ahead of the midterm elections. The Nov. 4 balloting will determine control of the Senate and the political comfort level at the White House during the last two years of residence there by the Obamas.
Democrats are seeking her help, even as they avoid campaign appearances with her husband, whose job approval rating has dropped to the low 40s. In contrast, the first lady is viewed positively by roughly two-thirds of Americans.
Chicago isn't exactly an unbiased test market for the hometown Obamas, but several in attendance said Michelle Obama can still fire up the party's base. They said they want to see her do more on the campaign trail.
"We believe in them and we believe we can get the vote out, if we just fire people up," said Blanche Rodgers of Chicago. "They have to be fired up like it was in Obama's campaign. She did it. She's an excellent speaker, is on point, and didn't waste any time or mince any words."
Doris Jones, another Chicago resident, called the first lady "a real motivating person" and said she hopes she spends as much time as possible campaigning between now and the election.
"I do want to see her in other states, especially Michigan and Iowa," she said.
Seeking to not be too overtly political, as is tradition for first ladies, Michelle Obama never mentioned Quinn's opponent by name, even as she sought to draw a contrast.
"Pat believes, like we do, that when you get to the top, you don't pull up the ladder," she said. "You reach back."
The first lady also made a comment that seemed at least partially ahead of history.
"Our kids take for granted that a black person or a woman can be president of the United States," she said.
Pointing to a 6.7 percent unemployment rate in Illinois, Quinn said Obama should get credit for falling jobless rates.
"Unemployment is down and jobs are up," Quinn said. "Thank you, President Obama."
Hillary Clinton also plans to visit her hometown of Chicago on Wednesday to help Quinn.
Earlier in the day, Michelle Obama appeared with former Trek Bicycle executive Mary Burke who is challenging Wisconsin Republican Governor Scott Walker, a potential 2016 presidential candidate.
Speaking before Michelle Obama, Senator Dick Durbin of Illinois warned Republicans not to go too far in their attacks of Obama.
"You can disagree with this president, but do not disrespect this president of the United States," he said.
Later in the week, Michelle Obama will try to help two male Democratic Senate candidates, Bruce Braley in Iowa and Gary Peters in Michigan, boost their support among women voters.
For now, there are no public plans for Michelle Obama to go to Arkansas, Louisiana or North Carolina, three other states that have large black populations and where there are close Senate races.
"When we stay home, they win," Michelle Obama said. "It's on us to get this done."
Before it's here, it's on the Bloomberg Terminal.
LEARN MORE