There Are No Fewer Than 4 Important Senate Debates Tonight
Five U.S. Senate candidate debates are on the docket today.
by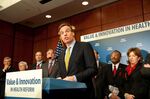 Any plans at 7 p.m. eastern time tonight? The big Nats v. Giants game isn't until 9 p.m., so how about watching a U.S. Senate debate? How about FOUR of them?
It's a busy day for candidate clashes in Senate races that will determine which party prevails November 4. Democrats currently hold a 55-45 majority, and Republicans need a net win of six seats to take the chamber. We've provided links below to live-streams of the debates, including a fifth in Colorado that begins at 8 p.m. eastern time.
1) Georgia: Republican businessman David Perdue squares off against Democrat Michelle Nunn, who formerly led the volunteer-service organization Points of Light. Republican Senator Saxby Chambliss is retiring.
2) North Carolina: Democratic Senator Kay Hagan, seeking a second term, faces Republican state House Speaker Thom Tillis. They also debated last month. Hagan has led Tillis by small but consistent margins in surveys taken over the past month.
3) Virginia: This race isn't among the most competitive in the nation, though it carries a lot of interest in Washington circles partly because of the state's proximity to the nation's capital. Democratic Senator Mark Warner, a former governor favored to win re-election, faces Republican Ed Gillespie, who's well known in national political circles as a former chairman of the national and state Republican parties. Chuck Todd, the moderator of NBC's "Meet the Press" program, is refereeing this debate, which will be shown on C-Span 2.
4) West Virginia: The seat of retiring Democrat Jay Rockefeller is among three (along with South Dakota and Montana) that national Democratic groups are in effect conceding as they concentrate on saving their vulnerable incumbents. Republican Representative Shelley Moore Capito, who would become West Virginia's first Republican senator in more than half a century, faces Democrat Natalie Tennant, West Virginia's secretary of state. West Virginia is assured of sending a woman to the Senate for the first time in state history. C-Span will air the debate live.
5) Colorado: At 8 p.m., Democratic Senator Mark Udall and Republican Representative Cory Gardner will face off in their second debate in as many days. They clashed yesterday at an event sponsored by the Denver Metro Chamber of Commerce and hosted by Politico's Manu Raju. The Colorado race is probably the closest of the five Senate races profiled here.  
Before it's here, it's on the Bloomberg Terminal.
LEARN MORE