The GOP's New Favorite Book Is Released Just in Time for Midterms
Leon Panetta's criticisms of President Obama echo Republican's favorite digs at his foreign policy.
by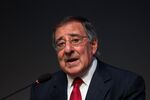 The publication Tuesday of former Defense Secretary (and, before that, CIA director) Leon Panetta's memoir, "Worthy Fights: A Memoir of Leadership in War and Peace,"  marks yet another former administration official criticizing the president for his Middle East policy, It also gives fuel to Republicans, who have been attacking Democrats on national defense in the lead up to the midterm elections.
In an interview with USA Today on Monday, Panetta said that the failure to maintain a residual troop presence in Iraq "created a vacuum in terms of the ability of that country to better protect itself," which allowed the Islamic State to thrive, and that, by not acting when Syrian President Bashar al-Assad used chemical weapons against Syrians, he hurt America's credibility.
"By failing to respond, it sent the wrong message to the world," Panetta writes in his book.
The memoir has been described as respectful, but the narrative being picked up is this: if President Obama had made different, better decisions, the U.S. would be looking at an improved situation in the Middle East. In the final chapter of his book, he writes that the president "avoids the battle, complains, and misses opportunities."
It follows criticism in recent books from former Defense Secretary Robert Gates and former Secretary of State Hillary Clinton. Christopher Hill, former U.S. Ambassador to Baghdad, also has spoken out about what he says were the administration's mistakes.
For Republicans,  this is an opportunity. Polls already show that Americans favor Republicans when it comes to national defense. A September Gallup poll found that Republicans had a 27 point advantage over Democrats on the matter, and a nine point advantage when it comes to which party is better prepared to protect the United States from terrorists attacks in the years ahead. The president's former defense secretary criticizing his foreign policy doesn't help Democrats.
And since, in the president's own words, his policies are on the ballot this fall, this only lends credibility to Republican attacks on Democrats' weakness on defense.
Candidates are already using clips from Islamic State beheading videos for a potent blend of fear mongering and vote solicitation. Retired Air Force Lt. Col. Wendy Rogers, a Republican running for the House in Arizona, released an ad this week that opens with American journalist James Foley moments before his execution. "Terrorist threats are growing. Are we secure? Are we protected?" a narrator says.
Democrats have called the spot tasteless, but Rogers' campaign manager argued that it showed what's at stake in the election. "We think it's an important ad to highlight the differences on what this election is about and how President Obama's failed leadership internationally has made our country less safe," he said.
Before it's here, it's on the Bloomberg Terminal.
LEARN MORE