Is Michelle Obama Still 'The Closer' Democrats Need on the Trail?
Michelle Obama is hitting the campaign trail for Democrats and transforming the role of first lady.
by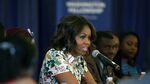 Michelle Obama's hitting the campaign trail this week to charge up the Democratic base for midterm elections that will determine control of the Senate -- and the comfort zone at the White House during their last two years of residence. Yet even though she earned the title of "the closer" during the 2007-2008 campaign because of her ability to rally the party base, doing that as first lady is trickier business.
"The American people are still schizophrenic about the first lady," said Wendy Schiller, a political science professor at Brown University in Providence, Rhode Island. "They want a strong, accomplished woman, but they also want someone to pay homage to the traditions of the first lady."
Although she hasn't been on the 2014 trail as much as some Democrats would like, Schiller said Michelle Obama has campaigned more than virtually any other modern first lady during her husband's two terms. "The only person who really campaigned in some limited way was Hillary Clinton," Schiller said.
First ladies Laura Bush and Barbara Bush didn't have any major presence on the midterm campaign trails during their husband's presidencies.
"It's not as if these women weren't tough and strong, but there was a big risk of politicizing the office of the first lady," Schiller said. "But times have changed and the idea of a high-powered career woman not being political just because she's first lady, is hard for a lot of women to swallow."

In the 1994 midterms, Democrats did their best to hide Hillary Clinton because of the health care reform fiasco she'd led. By 1998, she was being called the "campaigner in chief" by Democrats and the "co-president" by Republicans.  She appeared in about 20 states in as many days during the home stretch of that midterm election. More Democrats wanted to share a platform with her than her husband, Bill Clinton, who at the time was in the midst of the Monica Lewinsky scandal.
In Michelle Obama's case, national polls show roughly two-thirds of Americans say they view her favorably. That's 15 to 20 percent points higher than the scores her husband earns.
She's appearing Tuesday for Democratic candidates for governor in Wisconsin and Illinois and will stump for her party's Senate candidates in Michigan and Iowa Friday.  In Wisconsin, she'll appear with former Trek Bicycle executive Mary Burke who is challenging Republican Governor Scott Walker.
The stop in her home state of Illinois will be for Governor Pat Quinn, who is facing a strong challenge from Republican businessman Bruce Rauner. Hillary Clinton also plans to visit her hometown of Chicago on Wednesday to help Quinn. Later in the week, Michelle Obama will try to help Senate candidates, Bruce Braley in Iowa and Gary Peters in Michigan, boost their support among women voters.
She's already been to Georgia, where she campaigned with Michelle Nunn, who will need strong support from black voters to win an open Senate seat there. 
In 2010, Michelle Obama started her fall campaigning even later than this year,  not making her first appearance on the campaign trail until Oct. 13, when she raised money for former Wisconsin Senator Russ Feingold and appeared with Senate candidate Alexi Giannoulias in Illinois. Both men ultimately lost their races in a year where many Democrats went down in defeat across the country.
For now, there are no public plans for Michelle Obama to go to Arkansas, Louisiana or North Carolina, three other states that have large black populations and where there are close Senate races.
"I think her potential to affect turnout is greater than most previous first ladies," Schiller said. "Her absence is probably felt more deeply than other first ladies because of her potential."
Before it's here, it's on the Bloomberg Terminal.
LEARN MORE