Idea of the Day: Let's Invade Iraq Because of That Beheading in Oklahoma
Rep. Renee Ellmers deploys the grisly murder in her one debate with challenger Clay Aiken.
by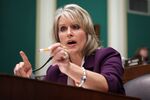 Clay Aiken is running for North Carolina's Second Congressional District seat, which is why it's received buckets more ink than any comparable GOP-held seat. The American Idol runner-up, whose fame surpassed that of most winners, is challenging Republican Representative Renee Ellmers and drawing in national reporters every couple of weeks. Aiken's presence is really their only hook – thanks to a 2011 gerrymander, Ellmers would have to work to lose a district that's carved out of the Republican suburbs around the research triangle.
So it was a small surprise when an interesting debate broke out Monday. In the candidates' only scheduled head-to-head, Ellmers and Aiken broke over the issue of sending ground troops to fight the Islamic State. Ellmers was asked point-blank if she'd back a land war. "I would," she said. "We never ended the war on terror. This is just an extension of it. We're talking about radical Islam. We're talking about jihadists. We're talking about people who believe this is a plan for the future."
Aiken pounced. "A few weeks ago, she spoke out and said she was not in support of sending ground troops into the region," he said, insisting that Ellmers changed her mind when Speaker of the House John Boehner did. "The men and women of our military should be protecting the United States on our soil ... military leaders, intelligence leaders, tell us there is not a credible threat right now."
This answer had the benefit of being true. Intelligence analysts, whatever one might say about their perspicacity, do not see an imminent threat to America from a roving army of people concentrated in the Levant. Yet Ellmers took this as a chance to lecture the Democrat.
"This is one of those things that maybe, as an entertainer, that you're not aware of," she said, explaining her position change. "These things are fluid... as far as policing the world, we've already had a situation pop up in Oklahoma where a gentleman who is, identifies with the Muslim belief, has done a very heinous crime. If beheadings of Americans is not a call to action, I'm not sure what will be for you."
It was a curious answer. Yes, Alexander Nolen reportedly gave the ISIS salute in a Facebook photo, but what did this have to do with ground troops thousands of miles away? Ellmers' response made more sense to connoisseurs of her underdog 2010 campaign, which concluded with a direct-to-camera appeal asking the voters of North Carolina to stand against the proposed Islamic center in Manhattan.
The only polling on the race has Ellmers up by 8 on Aiken.
Before it's here, it's on the Bloomberg Terminal.
LEARN MORE