Warren Buffett Says He'd Bet on Hillary Clinton Victory
Zachary Tracer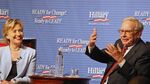 Warren Buffett, the billionaire chairman of Berkshire Hathaway Inc., said he thinks Hillary Clinton will be the next U.S. president.
"Hillary is going to win," Buffett said today at the Fortune's Most Powerful Women Summit in Laguna Niguel, California. "I will bet money on it. I don't do that easily."
Before it's here, it's on the Bloomberg Terminal.
LEARN MORE