Bill Clinton Cries 'Woo-Pig-Sooie' for Arkansas Democrats
The former professor reiterates that the midterm elections shouldn't be all about President Obama.
by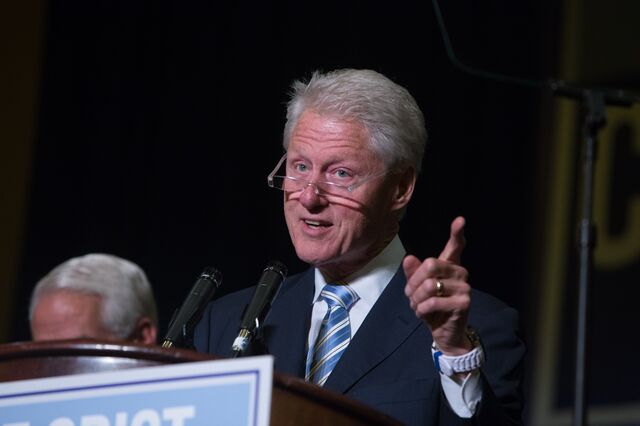 If there's one thing that Professor Bill Clinton knows how to do, it's connect with students. On Day Two of the former president's blitz of his former home state, Clinton helped lead 6,000 people at the University of Arkansas in the school's trademark "Woo-Pig-Sooie" cheer before reiterating his pitch that the mostly college-age crowd shouldn't be fooled by GOP attempts to make the mid-term election a referendum on President Obama.
"People that paid for those [negative] ads, they will not give a rip about you after the election," said Clinton, who taught law at the university before entering politics. "They are trying to create an environment in this state of resentment, vote for what you're against. They see the surveys that say the present administration is not popular so they say you've got one more chance to cast a protest, baby, put it in there. It's a pretty good scam."
Referencing a Daily Beast story that described Clinton's two-day Arkansas foray as an "obsession" with his former home state, Clinton didn't blink. 
"I am obsessed. I love this place. If it hadn't been been for me coming here to Fayetteville more than four decades ago I never would have become governor, I never would have become president, nothing else would have happened."
Behind him, Senator Mark Pryor and gubernatorial candidate Mike Ross soaked up the crowd's love. While much of Clinton's speech centered on the accomplishments of one Bill Clinton, the former governor also touted the bipartisan records of the men he stood on stage, and Clinton criticized the culture of political gridlock that he sees the GOP having fostered. 
"The Constitution could be subtitled, 'Let's Make a Deal,'" Clinton said, adding, "We are coming back – the question is whether we'll come back together. That is the big question in Arkansas; that is the big question in America."
 Judging from Clinton's reception, and the social media flurry that followed, his appearance in the state could give his embattled Democrats a much-needed boost. 
 For his final stop, Clinton headed to Rogers, Ark. It was just like old times.
Before it's here, it's on the Bloomberg Terminal.
LEARN MORE