The Bill Clinton Show Returns Home
The former president is trying to save three Democrats in Arkansas.
by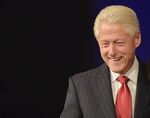 The man from Hope, Ark., is hoping to bring a much-needed dose of optimism to three Democrats locked in tight races in his home state. Bill Clinton, the hugely popular former governor of Arkansas (and, yes, president of the United States), spent Monday stumping for Mark Pryor, Mike Ross, and Patrick Henry Hayes, all three of whom face an uphill battle against their Republican challengers, and will do so again on Tuesday.
"Historically in non-presidential years there's a big dropoff in the youth vote," Clinton told more than 1,000 people at  the University of Central Arkansas, the first of five campaign stops in the state. "And the opponents of these candidates are betting there will be this year. And I'm betting there won't be. And it's up to you."
Clinton acknowledged the current president's dismal approval rating in Arkansas (31 percent, according to an NBC News/Marist poll released last month), and urged voters not to fall for what he argued was a concerted GOP strategy to make the election a "protest" vote against Obama. 
"It's a pretty good scam isn't it?" Clinton told the crowd. 
If any politician has the ability to sway voters in a tight race, it's Clinton. A Wall Street Journal/NBC News/Annenberg poll of registered voters released over the weekend found that after Clinton made a pitch on behalf of a candidate, 35 percent of those surveyed looked upon that politician more favorably, while 24 percent said the opposite. 
Representative Tom Cotton, the Republican who holds a narrow lead over incumbent Democrat Mark Pryor in a race that could decide which party controls the Senate, says Clinton's arrival in Arkansas will not decide the race. 
"I'm not worried about Bill Clinton's support for Mark Pryor. I'm worried about Mark Pryor's support for Barack Obama," Cotton told ABC News on Sunday. "And in the end, it's Mark Pryor who's on the ballot, not Bill Clinton. And it's Mark Pryor's support for Barack Obama's policies that Arkansans are going to be voting on."
Still, Cotton acknowledged that Clinton remains a potent surrogate in Arkansas, especially with older voters. 
"My parents, you know, were Democrats for most of their lives. Voted for Bill Clinton on numerous occasions," Cotton said. "There are a lot of Arkansans who used to vote Democratic, but they realize now that the Obama Democrats simply don't represent Arkansas' conservative values."
While Clinton worked the crowds in his birth state, Hillary Rodham Clinton was fulfilling a commitment to speak at the Canada 2020 conference in Ottawa. 
Before it's here, it's on the Bloomberg Terminal.
LEARN MORE