The Bailout That Won't Go Away
Former Treasury Secretary Hank Paulson relives the nation's financial nightmare during AIG trial.
by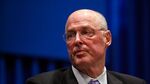 Watching former Treasury Secretary Hank Paulson take questions Monday in federal court over the bailout of AIG brought back dark memories from the financial crisis.  There was anguish in his face as he recalled the list of bad choices he and other government officials faced as the U.S. financial system teetered on the edge of the abyss. One thing Paulson is still certain of after six years: bailing out AIG with $182 billion in taxpayer money was the right call.
"They would have failed, and it would have hurt the American economy and the public," Paulson said in court. "It was necessary." 
Paulson is the first of three bailout architects to testify in Maurice "Hank" Greenberg's shareholder lawsuit against the federal government. Former New York Federal Reserve President Tim Geithner and former Federal Reserve Chairman Ben Bernanke will follow this week. All have have defended the AIG bailout publicly in the past, but this is the first time they have had to do it in open court.
Greenberg claims the government's taking of equity in return for an $85 billion loan to AIG amounted to illegally gaining control of the company without proper compensation. His lawyer, famed litigator David Boies, says the government charged an "extortion" interest-rate on the loan and there were other options available. Government lawyers tried unsuccessfully to get the lawsuit tossed out. They say not only was it legal, Greenberg and other shareholders would have been left with nothing without the bailout. 
Paulson bolstered that argument and challenged Boies' suggestion that the Chinese government offered a late lifeline to AIG. The former Goldman Sachs CEO said he spoke to top Chinese officials continually during the crisis. Despite some overtures, Paulson said the Chinese were already "very, very nervous" about their existing U.S. investments. "It was clear they didn't have an interest." The only way they would help AIG is if it came with a U.S. government backstop, and Paulson said there "no way" he was willing to provide that.
Boies tried to get Paulson to admit that banks receiving federal assistance at that time secured more generous terms than AIG. Paulson said the circumstances surrounding AIG were different.  "I think the Fed negotiated terms that were appropriate to AIG," he said. "Stability came first."
When his testimony ended after just two hours, a smile returned to Paulson's face as Judge Thomas Wheeler excused him. "You made my day," Paulson told him before shaking hands with Boies and leaving the courtroom.
Next up: his successor Tim Geithner.
Before it's here, it's on the Bloomberg Terminal.
LEARN MORE