Spending Points to House Democrats' Pessimism
Look at where Republicans are putting their dollars — and what Nancy Pelosi is telling her members.
by and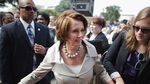 Democrats have given up on winning control of the House, and now they are just hoping to limit the damage in November's elections. Don't ask them – just look at the numbers and listen to what party leaders are telling the rank-and-file privately.
First, a couple of data points.
The National Republican Congressional Committee reported spending money on polling and research in 11 districts on Sept. 30 and Oct. 3 — four are open seats held by Republicans and seven are Democratic-held seats. Translation: The GOP isn't very worried about its incumbents.
On Sept. 30, a heavy spending day for both parties, the NRCC dropped $6 million in independent expenditures, 65 percent of which was directed into Democratic districts. Of the $7.6 million spent by the Democratic Congressional Campaign Committee, 64 percent was directed to districts where Democrats are in power. Translation: Republican spending was 2-to-1 on offense, and Democratic spending was 2-to-1 on defense.
Then, there's House Minority Leader Nancy Pelosi's less-than-inspiring message on a Democratic Caucus conference call last week. Instead of fighting to win the House, she implored them to fork over cash to the party so that they wouldn't lose seats on House committees when they are re-apportioned based on the election results, according to two people who listened to the call.

Before it's here, it's on the Bloomberg Terminal.
LEARN MORE