On National Security, Jindal Moves Firmly Into the Hawk Camp
He's willing to acknowledge that a spending push represents a policy shift for much of his party.
by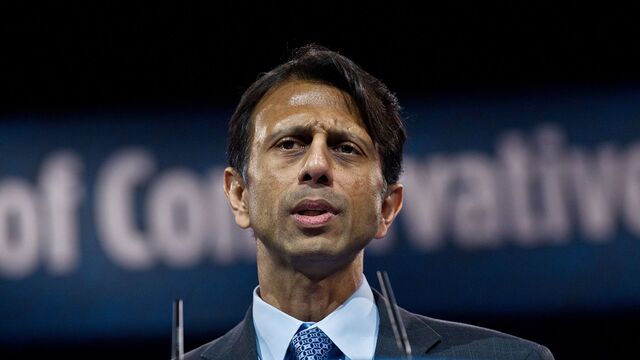 Louisiana Governor Bobby Jindal, a potential 2016 presidential candidate, will move firmly into the national security hawk camp this week, starting with a speech heavy on criticism of President Barack Obama's foreign policy and former Secretary of State Hillary Clinton's role in its formation.
Jindal, in remarks Monday at the American Enterprise Institute in Washington and Tuesday at the Citadel, will push for increased spending levels to bolster the U.S. military -- a position that just a few years ago would have gone against the tide of a Republican Party that was more comfortable with across-the-board fiscal conservatism. 
Yet Jindal, seizing on the rise of Islamic State since June, will argue that increased military spending, even at a time of fiscal restraint, is a central component of a strong foreign policy. And he's willing to acknowledge it represents a policy shift for much of his party. 
"It is time for politicians once again to embrace the postwar consensus of the need for a strong national defense, having learned the lesson that the best way to avoid battle is to prepare for it," Jindal says in prepared remarks provided to Bloomberg Politics.
For Jindal, the two speeches and a 28-page paper on defense policy mark another dive into the wonk world through the vehicle of America Next, his organization that has also taken a look at health care and energy policy in recent months.
Of note in the defense policy paper Jindal is releasing Monday: his co-author is Jim Talent, the former Republican senator from Missouri and sought after GOP policy adviser every election season. 
Here's a look at key portions of Jindal's prepared remarks, from the political to the policy, and the path he's now carving in the national security debate within the Republican Party in the wake of military action in Iraq and Syria. 
— An Obama broadside: "It would take too much of your valuable time for me to list a bill of particulars of all of the consequences of President Obama's failure on the international stage."
— Using Obama's former team against him: "Ask former Defense Secretary Leon Panetta, who says he and others advised the president to negotiate a Status of Forces agreement with Iraq that could've forestalled the rise of ISIS… but says the White House refused to lead. Ask former Ambassador to Iraq Christopher Hill, who says he was abandoned and ignored by Secretary Clinton. Or ask the outgoing chief of the Defense Intelligence Agency, Michael Flynn, who says the world today is more chaotic than any time since the 1930s."
— Hillary Clinton: If only he'd had the help of a wise steady hand, a policy expert in dealing with foreign affairs, he'd have come up with better answers. But instead he just had Hillary Clinton."
— Name-checking former hawkish officials in President George W. Bush's administration: "Secretary Rumsfeld, Ambassador Bolton, and others understand that weakness is provocative."
— Animated movie reference" "I wish President Obama had watched The Incredibles, because then he'd know that when everybody's special, nobody is."
— Specific policy proposal on defense spending: "I share the belief that we should set as a guideline spending approximately 4 percent of America's GDP on defense."
— Jindal's vision for the military: "This force should be used carefully – not to nation-build overseas, not as a police force or a Keynesian jobs program, but as a deterrent to our adversaries, and as a tool to eradicate threats to American lives and interests."
— Walking the line between fiscal hawk and defense hawk: "Within the arena of national defense, the need now is for more funding, not less. That funding must be smarter – not motivated by domestic political priorities, but by what real threats America faces around the world."
Before it's here, it's on the Bloomberg Terminal.
LEARN MORE