Mitt Romney Sees Some Solid 2016 Candidates Who Are Not Him
There's no leading contender at the moment, but he's confident that "we're going to find someone who catches fire."
by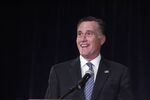 A little more than a week after his wife opened the door to a third White House run, Mitt Romney himself offered three consecutive statements on what he is not doing in 2016.
"I'm not running, I'm not planning on running, and I've got nothing new on that story," Romney told Bloomberg Politics' Mark Halperin on "With All Due Respect." 
In the interview, Romney ran roughshod over President Obama's foreign policy, slamming his handling of Russia, Iraq, and Syria. But he had nothing but praise for two people who might well end up representing their respective parties in the 2016 election—Jeb Bush and Hillary Clinton. 
"Well, I think Jeb is an excellent person, could be a terrific president," Romney said. "I think that about a lot of the people who are running on the Republican side or who I think will get in. My guess is you're going to see 15 or so people on the stage at the first debate. I don't know who they all are going to be at this stage."
But Romney also seemed to indicate that his focus would be on identifying someone other than himself to stand on that stage. 
"Among those people, we're going to find someone who catches fire, who ignites the interest of the Republican base, and you're going to see someone who can go on to become president," Romney said. 
When asked about former CIA director Leon Panetta's latest criticism that Obama's foreign policy strategy is "adrift," Romney noted that Hillary Clinton had also taken a similar swipe at the president.  
"Well, I think when you have someone who is clearly identified as a leader in Democrat circles say what Republicans have been saying, frankly say what Hillary Clinton said the other day about the president's foreign policy as well saying basically he doesn't have one, that saying we're not going to mess up is not a foreign policy."
Before it's here, it's on the Bloomberg Terminal.
LEARN MORE