James O'Keefe is Officially Trying to Affect Elections Now
The man who brought down ACORN is getting more involved in political campaigns.
by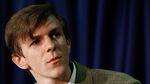 It's been five years since his ACORN sting videos spurred a panic that sent a Democratic Congress against that group of community organizers, and quickly consigned it to history. Today, in a new video, James O'Keefe has compiled undercover video of his Project Veritas moles inside Alison Lundergan Grimes's campaign for U.S. Senate.
Breathe (somewhat) easy, Democrats: There's no criminal activity alleged here. Instead, there's a succession of cheerful activists insisting that Grimes is on their side, and is participating in a "lying game" when she says she'll fight for the coal industry. One Democrat even offers that Barack Obama's regulations have "shut down all the really terrible environmental places," which is decidedly not the Grimes campaign line. She "strongly oppose[s] President Obama's attack on Kentucky's energy industry." The Grimes volunteers and backers don't take her seriously. ("Neither does anyone else," says Doug Stafford, Rand Paul's political director.)
What's the news here? It might be the way O'Keefe released this. This is the second video from Project Veritas Action, a new 501(c)4 that is designed to get into more direct political activity than O'Keefe's previous stings. Project Veritas, O'Keefe's original group, is a tax-exempt 501(c)3, a distinction that restricted how hard it could swing into campaigns. It couldn't engage in real political activity, or tell voters to oppose a certain candidate. The 501(c)4, a "social welfare" organization, does not have that problem; the first PVA video took aim at Wendy Davis's campaign for governor of Texas, over staffers not being outraged enough when a PVA mole said he'd broken the state law that requires voter registrars to be trained by the state.
"The C4 gives us more flexibility to investigate all public officials," O'Keefe told me in an email today. In an email to supporters (and potential donors), O'Keefe writes that he founded the new group to "expand investigations into the public policy arena." Like Americans for Prosperity, the O'Keefe organization is breaking free of some shackles and outwardly trying to beat some Democrats.
Before it's here, it's on the Bloomberg Terminal.
LEARN MORE