Grimes Ahead of McConnell in Kentucky Bluegrass Poll
It's a 6-point swing to the Democrat since the last survey.
by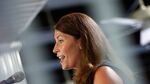 Democratic challenger Alison Lundergan Grimes has moved ahead of Senate Minority Leader Mitch McConnell in a Bluegrass Poll released Monday.
The two-point lead in Kentucky is within the survey's margin of error, but could show a change in direction in a race where McConnell has led in most recent public polls.
Grimes, Kentucky's secretary of state, led 46 percent to 44 percent among likely voters. The numbers represent a 6-point swing to the Democrat since the last Bluegrass Poll was taken in late August.
Libertarian candidate David Patterson had 3 percent support, while 7 percent of likely voters said they were undecided.
McConnell's campaign called the poll an outlier. "We're very comfortable with where this race stands," spokeswoman Allison Moore said in a statement.
The poll was conducted by SurveyUSA for the Courier-Journal in Louisville, the Lexington Herald-Leader, WHAS-TV in Louisville and WKYT-TV in Lexington from Sept. 29 to Oct. 2 and has a margin of error of plus or minus 4 percentage points. 
A polling average by RealClearPolitics.com that doesn't include this survey shows McConnell with a 5.4 percentage point advantage.
Before it's here, it's on the Bloomberg Terminal.
LEARN MORE