Gay Rights Groups Calling Supreme Denial a Victory
Without a nationwide ruling, same-sex marriage gets a green light in several states.
by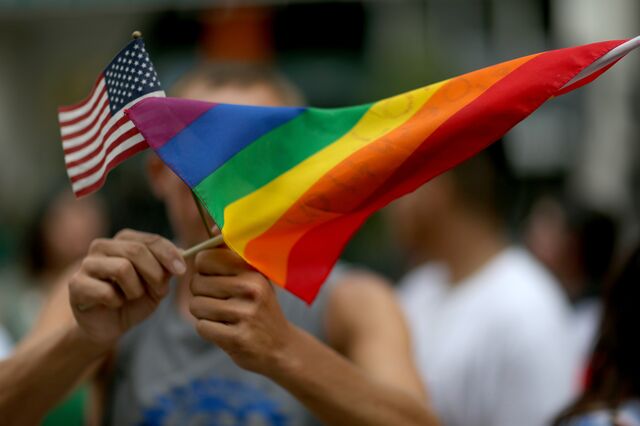 Marriage-equality groups and their opponents have both been denied a seemingly inevitable ruling on same-sex marriage this Supreme Court term. But though the court has passed on the opportunity to make a landmark nationwide ruling on same-sex marriage, gay rights groups are leading with the positive: In the five states where marriage bans have been struck down, same-sex couples will soon be free to marry. The court's decision to not hear cases from those states means appeals court decisions can now take effect.
"Any time same-sex couples are extended marriage equality is something to celebrate, and today is a joyous day for thousands of couples across America who will immediately feel the impact of today's Supreme Court action," Human Rights Campaign President Chad Griffin said in a statement. Freedom to Marry's National Director, Marc Solomon, had this take: 
And as Bloomberg's Greg Stohr reported, Monday's decision means that six additional states — Colorado, Wyoming, Kansas, West Virginia, North Carolina and South Carolina — may join the list of places that have legalized gay marriage, because they fall under the jurisdiction of the same appeals courts. The New Civil Rights Movement, an equality activist group, listed that as a key point in a blog post titled "Supreme Court Will Not Hear Any Same-Sex Marriage Cases — Why This Is Good News."
Advocates who oppose same-sex marriage didn't find much to like about the court's move. National Organization for Marriage president Brian S. Brown said in a statement that he was "surprised and extremely disappointed" by the news and that "this is wrong on so many levels." The organization went so far as to call on Congress to send a federal amendment to the states, instead of letting "unelected judges impose their view of marriage on Americans."
In a blog post, Russell Moore, the president of the Ethics and Religious Liberty Commission of the Southern Baptist Convention, wrote that "many Christians may be unaware of how momentous this is, since the denial of cases doesn't come with quite the shock and awe of a ruling handed down. The effect though is wide-ranging." He warned Christians to not react negatively to the news, but also not give in to the "temptation" of gay-rights acceptance. "The Supreme Court can do many things, but the Supreme Court cannot get Jesus back into his cemetery plot," Moore wrote.
At the same time, the court's delay leaves the country in a state of indecision. Griffin at Human Rights Campaign said that "the complex and discriminatory patchwork of marriage laws that was prolonged today by the Supreme Court is unsustainable." Freedom to Marry president Evan Wolfson, repeating the patchwork imagery, said in a statement that "the Court's delay in affirming the freedom to marry nationwide prolongs the patchwork of state-to-state discrimination and the harms and indignity that the denial of marriage still inflicts on too many couples in too many places."
Before it's here, it's on the Bloomberg Terminal.
LEARN MORE