Can Harry Reid Wipe Out the Republican Bench in the Senate?
Senators Marco Rubio and Rand Paul will have to decide between running for president or seeking re-election in 2016.
by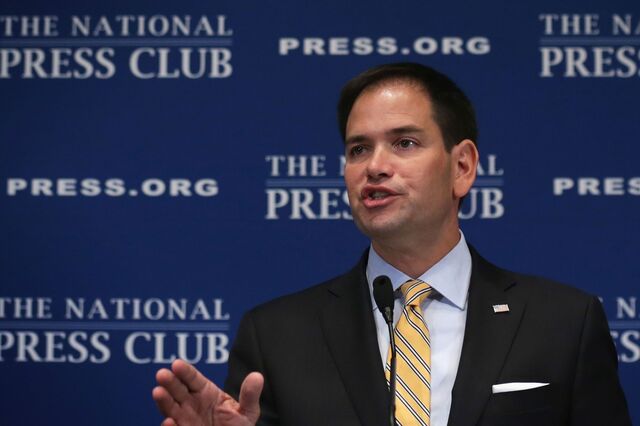 If Republicans fail to win the Senate majority in November for the fifth election in row, Democrat Harry Reid retains control of the chamber. Surely such an outcome would give the Nevada Democrat reason enough to celebrate in his Washington D.C. Ritz-Carlton condo. Here's another: It may open some crucial Republican-held Senate seats heading into 2016, and give him a better shot at broadening his majority.
A handful of Republicans who are facing re-election that year have been mentioned as potential presidential candidates. That list includes Rand Paul of Kentucky, Marco Rubio of Florida and Rob Portman of Ohio.
So far, Rubio has most directly tied the 2014 election results to his decision about 2016. Here's Rubio on Sept. 7 when Bob Schieffer of CBS asked him about running for president:
I'll have to make a decision in 2016 either way because I'm up for re-election in the Senate. And for me it's not going to be about the position, it's going to be about where I can best advocate for a 21st century reform agenda that allows us to usher in another American century. The decision I have to make is can I best do that as a senator, or can I best do that running and hopefully winning the presidency. And that's a question I'll have more clarity on after this midterm, because I can promise you this, the one place where I will not be able to do that from is a Senate that is still run by Harry Reid that allows no votes on anything of substance or importance.
Rubio and Portman can run for both offices at the same time under election laws in their respective states. Yet, the senators each have said they'll pick one seat or the other. 
"At this point, I'm planning to run for Senate in Ohio," Portman told RealClearPolitics in August. "Your next question is going to be, 'Can't you do both?' And the answer is, 'Yes,' but I wouldn't. I think you need to focus."
Portman, like Rubio, doesn't seem to be enjoying his time in a Reid-controlled Senate. Here he is in an interview with Bloomberg News reporters and editors in July.
"I think there have been seven Democrat amendments voted on in a roll call vote in the last year. There have been nine Republican votes.  I've gotten some by voice vote, but it's been a problem with the (tax) extenders bill, obviously the energy efficiency bill, which frustrates me, because we did make concessions there -- big time concessions on limiting the number of amendments to four or five, keeping them energy related. And yet Harry Reid continues to shut down the process."
In a Senate where Vice President Joe Biden may be the tiebreaker, it would be devastating for the Republican Party to lose a pair of incumbent senators in swing states heading into 2016, a presidential election year when Democrats actually turn out to vote. (It would also be fairly rare. Just twice in the past eight presidential elections has either  state had an open race for Senate: Florida Democrat Bill Nelson's 5-point win in 2000 and Florida Republican Mel Martinez's 1-point victory in 2004.)

For Paul, life is a bit more complicated. Kentucky lawmakers so far have refused to rewrite a law that prohibits candidates from running for two offices, a change that two-thirds of the state's voters  say they oppose.
It appears that Paul could still run for both offices by staying in the Kentucky Senate race while putting his name on the presidential ballot in the other 49 states (and conceding an embarrassing loss in his home state). In July, Paul told the Associated Press he was keeping that option open, and also wouldn't rule out a legal challenge to the state law.
"I would just say it's probably not a conclusion yet," Paul said. "But it is something that's an ongoing discussion."
Before it's here, it's on the Bloomberg Terminal.
LEARN MORE