Brown Holds His Own vs. Shaheen
Their debate opens with one agreement: "There are some real differences."
by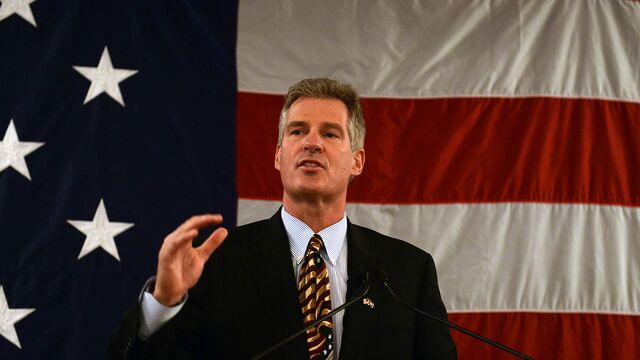 After airing hundreds of television ads in New Hampshire, incumbent Democratic Senator Jeanne Shaheen and her Republican challenger Scott Brown shared the same stage on Monday, trading barbs over immigration, contraception, and foreign policy.
The race, which Shaheen is leading by 4.6 percentage points in the latest average of polls by RealClearPolitics, is the closest in the northeast – and Republicans have seen it as a possible pickup in their quest to take political control of the Senate.
The debate seemed to be a home game for Shaheen, who had plenty of supporters in the audience. But Brown held his own, pushing back on Shaheen's attempt to paint him as insensitive to women's health issues.
The takeaway: Four weeks from Election Day, this debate probably doesn't move the needle in the race. But it did offer a few insights into the candidates' strategies, helped define their differences and provided a bit of local color to a nationally watched campaign. 

The highlights:
Bipartisanship
In a nod to the famous independence of New Hampshire voters, both Shaheen and Brown sought to portray themselves as free from the shackles of partisanship. A former governor seeking her second term in the Senate, Shaheen made a point of shaking hands with Brown's supporters on the way into the debate.
Brown repeatedly referred to himself as the most bipartisan senator when he represented Massachusetts in the chamber, while calling Shaheen a "rubber stamp" for President Barack Obama.  "The president said this election is about him and his policies and I agree," Brown said.
Shaheen highlighted her support for the Senate's bipartisan immigration plan last year and dropped the name of Republican senators with whom she's worked with on legislation. "There are some real differences," Shaheen said.
Contraception
Brown was most defensive about Shaheen's implications that he didn't support women's rights and easy access to contraceptives.
In a moment that seemed to confuse the crowd, Brown said he had backed the women's ability to get contraception "since I was 18 years old." A Brown adviser said after the event that he was referring to the age U.S. citizens can vote and engage in civic action. 
Shaheen said Brown co-sponsored an amendment aimed at denying women access to contraception and voted to defund Planned Parenthood. "You have to not listen to just to what Scott Brown has to say about this issue, with respect to pro-choice, but you have to look at what he's done," she said.
Brown said he was one of the few Republicans to support money for Planned Parenthood, and that he was a sponsor of the Violence Against Women Act.  "I remember fighting for women since I was 5 years old, when my mom and myself were being abused by a drunk stepfather," Brown said.
Islamic State
Brown criticized Shaheen for not supporting combat troops in Iraq to fight the Islamic State militants. Brown was careful to say he wasn't advocating for that, but it should be an option.
"To take the greatest deterrent, as Senator Shaheen said, our military, off the table, it's confusing," Brown said. "ISIS is not taking anything off the table, but we're already taking something off the table. So my question is what if air strikes don't work? Where are we then?"
Shaheen she opposed having an "occupying force" of U.S. troops in the Middle East. "What's not helpful is political grandstanding, fear-mongering about the challenges that we face," she said.
Mic Check
The debate drew more than 200 people to rural North Conway, a spot that few statewide candidates visit. The only real hiccup was a faulty sound system at the start, in which Shaheen was forced to fumble with a pair of microphones and deafening feedback for several minutes while the moderator, local businessman George Epstein, pleaded for help from the hotel staff.
Say what?
Two spots where the candidates stepped away from their respective party lines: Shaheen acknowledged that some things "might not be working on the Affordable Care Act," Obama's signature domestic achievement passed by Democratic majorities. She said finding bipartisan support for fixes would be a "refreshing change."
Brown said he's "willing to listen" to suggestions for legislation to address the 2010 Citizens United ruling from U.S. Supreme Court decision, which many Republicans support. Brown added that he thought the decision, which allowed for unlimited corporate spending, was "clear."
And finally
Shaheen's favorite dog is a yellow Labrador, she doesn't take naps and her favorite movie is Casablanca. "I love Humphrey Bogart," she said.
Brown said he's reading Dan Brown's "Inferno," cited two Mel Gibson action movies as his favorites — Braveheart and The Patriot — and would only acknowledge napping during terrible New England Patriots games, such as their loss last month to the Kansas City Chiefs on Monday Night Football.
Before it's here, it's on the Bloomberg Terminal.
LEARN MORE