5 Reasons Why the Midterms Should Matter to You
There are dozens of reasons why next month's midterms matter, but here are the biggest ones.
by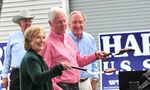 So you think the 2014 midterms don't matter? Do you wish we could skip November and get straight to the 2016 primaries? Were you among the people who thought this year's Iowa Steak Fry this year was about Hillary Clinton's non-launch campaign launch and not the Democratic congressional candidates on the ballot? If you answered yes to these questions, you're wrong (except for the last one – no argument here.) 
There are dozens of reasons why next month's midterms matter, not least of which is whether Republicans will seize control of the U.S. Senate. But here are five others that should be enough to persuade you to wait until November 5 to go all in on 2016.
 1. National Security
Congress left town without considering whether to give President Barack Obama the authority to use force in Iraq and Syria against the Islamic State. While leadership aides in both parties made it clear that they didn't want the debate and vote so close to an election, a series of lawmakers in both parties have been agitating to hold the debate. A debate in the lame duck session this year after election day is possible, but the more likely timeline is early next year, after the new Congress is seated. 
The Obama administration has said two distinct authorizations — the original post-9/11 Authorization of for Use of Military Force, as well as the 2002 Iraq authorization — likely provides the legal basis for the strikes, though Obama said in his September speech announcing the his strategy to counter the Islamic State that he would "welcome congressional support," even if his lawyers had made clear he did not explicitly need it to launch the strikes.  The way lawmakers, particularly those with broader political ambitions, frame that debate will have long-term implications.
Think about it this way: The U.S. still utilizes the sweeping 2001 AUMF to justify actions more than 13 years later. And as for a force authorization vote? Just take a look at the lawmakers involved in the 2002 debate and how it defined elections in the years that followed for a sense of how much the vote may matter. Hillary Clinton, who was hammered by then-Senator Barack Obama in the 2008 Democratic Primary for voting in favor of the authorization, more or less apologized for it in her latest memoir. 

"I wasn't alone in getting it wrong," Clinton wrote. "But I still got it wrong. Plain and simple."
Keep an eye on: Surveillance reform. If lawmakers don't act in the lame-duck session, they will have six months until the authorization to bulk-collect metadata expires. That should spur movement on efforts to reconcile House and Senate proposals to change many of the central components of the U.S. intelligence collection infrastructure.  More than a year after Edward Snowden's first revelations, the issue remains politically divisive. 
2. Domestic Policy 
The days of the "big deal" and the "Grand Bargain" are over. Comprehensive tax reform? Not gonna happen. But there are a series of smaller, consequential changes to larger laws that have bipartisan support and, given a pathway through both chambers by leadership, could result in something that would head to Obama's desk and into law.
Bills to change the Affordable Care Act (see: medical device tax repeal) and the Dodd-Frank financial overhaul law (see: revisions to capital requirements for large insurers) could move forward quickly if lawmakers in both parties find an amenable vehicle.  Key members of both parties have signaled they're ready to tackle the poverty debate — though with very different policy solutions — and that will probably be fleshed out over the next two years. So will the Republican positioning on the Affordable Care Act (which will remain in place as long as Obama is in office) and immigration (which continues to split a party.) 
Keep an eye on: The debt ceiling. Lawmakers will have three months to figure out how to raise or again suspend the debt limit. Given that Republicans have run attack ads against House Democrats who helped them keep the country from default, this complicated vote for Boehner may be even more so this time around.
3. Obama's Legacy 
Obama's top-line legacy was carved out during his first term, as the White House and a Democratic Congress passed three laws — Obamacare, the stimulus and Dodd-Frank — that reshaped domestic policy for decades to come. Yet the president's final two years in office, even as a lame duck, will still create ample opportunities. One route? A continued push on executive actions, the unilateral moves Obama has pursued throughout the first two years of his second term. 
What else could show up? His veto pen. Should Republicans control both chambers of Congress, Obama may solidify pieces of his legacy not by what he approves, but what he rejects. 
Keep an eye on: The federal bench. No group will play a bigger long-term role in defining Obama's legacy than the nearly 300 judges he nominated to the judiciary. Currently 16 judicial nominees are awaiting Senate floor consideration, according to a count by the group Alliance for Justice. More pressing for an administration facing the possibility of a Republican-led Senate? The 31 judicial vacancies without nominees and 25 future vacancies looming later this year and in 2015. 
 4. Party Dynamics
The battle for the soul and direction of the Republican Party has raged for several election cycles, and it won't be settled by the 2014 midterm elections. But should Republicans take control of the Senate, the party leaders' agenda will be illustrative of the possible way forward — as will the way potential 2016 presidential candidates respond to that agenda.
Republicans criticize Senate Majority Leader Harry Reid for playing a central role in the gridlock that has come to define Congress. Regardless of what one wants to say about Reid's strategy, there is one thing that is inarguable: he has rarely, if ever, lost control of his caucus. As Boehner can tell current Minority Leader Mitch McConnell, it may be much harder to keeping in line a Republican conference with a diverse set of conservative ideologies and ambitions for greater political achievements.
Republicans also face a Senate map that will place the party at a disadvantage in the 2016 election (as Charlie Cook laid out in this piece). It's an issue Democrats have dealt with the past three cycles and can complicate any party strategy.  The political and internal ideological dynamics will be something to watch closely throughout the next two years. 
*Keep an eye on: The Club for Growth and Heritage Action. These conservative groups have vexed House Republican leadership since the GOP took control of the chamber in 2011. Should Republicans take the Senate, it will be worth watching how those groups interact with GOP leadership and the rank and file.
5. 2016 
You win. We'll talk 2016. Yes, November matters for 2016. The makeup of the two chambers, the policies they pursue and the political dynamics that almost certainly will
play out over the next two years will affect who wins in 2016. So be patient. And keep a close watch on what's going on in Congress. 
 Keep your eye on: Paul Ryan. Marco Rubio. Rob Portman. Rand Paul. Ted Cruz. Bernie Sanders. Elizabeth Warren. Kirsten Gillibrand. Lindsay Graham. Peter King. And Joe Manchin. 
Before it's here, it's on the Bloomberg Terminal.
LEARN MORE